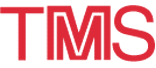 2001 TMS Annual Meeting: About the Exhibition
---
February 11–15 · 2001 TMS ANNUAL MEETING · New Orleans, Louisiana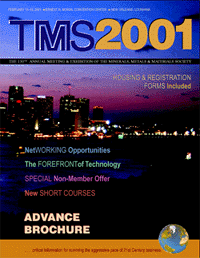 During the week of February 11–15, 2001, at the 130th Annual Meeting & Exhibition of The Minerals, Metals & Materials Society (TMS), you can join more than 4,000 science and engineering professionals, representing more than 70 different countries, who will come together for the opportunity to add to their own store of knowledge by capitalizing on the expertise and experience of their colleagues. More than 200 sessions and 1,000 individual presentations are scheduled. Whether your technical interests lie in precious metal extraction, aluminum processing, high-temperature superconductors, or just about any other materials field or metallurgical discipline, you will find programming that addresses your most pressing needs.

The 2001 TMS Annual Meeting & Exhibition will take place in New Orleans, Louisiana. The Hilton New Orleans Riverside Hotel will be the headquarters hotel for the event. All conference events, including registration, technical sessions, and the exhibition will take place at the Ernest N. Morial Convention Center.

Make plans to attend the Annual Meeting Exhibition, featuring:
30,000 square feet of exhibits
over 200 exhibiting companies
over 30 categories of equipment, materials, services and technology, including:

Aluminum production technology
Automation and Computer Simulation
Carbon Technology
Casting - Filtration
Furnaces
Grain Refiners & Master Alloys
Engineering and Consulting Services
Measurement, Testing & Analysis Equipment & Services
Process Equipment
Recycling Technology
Refractory & Insulating Supplies
Show Dates and Hours
| | |
| --- | --- |
| Monday, February 12, 2001 | 12:00 PM-6:00 PM |
| Tuesday, February 13, 2001 | 9:30 AM-5:30 PM |
| Wednesday, February 14, 2001 | 9:30 AM-3:00 AM |
Special Attractions at the 2001 Exhibition
Hosted Grand Opening
Date: Monday, February 12, 2001
Time: 5:00 PM-6:00 PM

An opportunity for all meeting registrants to join the exhibitors at the Wine & Cheese Reception
Complimentary Lunch
Date: Tuesday, February 13, 2001
Time: 12:00noon-1:30 PM

Meeting registrants can enjoy a hosted lunch on the exhibit floor while visiting the booths
Afternoon Snack
Date: Wednesday, February 14, 2001
Time: 12:15 PM-2:15 PM

Join us in the exhibit hall for a New Orleans treat!
Other
Coffee Breaks will be held in the Exhibition on Show Days
Visit the Lunch and Snack Concession Area on the Show Floor
Product & Technology Mini-Sessions
Dates: Monday, February 12, and Tuesday, February, 13
Time: 11:45 AM–2:00 PM
Location: The products and technology mini-sessions are held in the Ernest N. Morial Convention Center in meeting ar-eas convenient to the Exhibition and technical program.

A complete schedule for the Exhibitors Product and Technology Mini-Sessions is available for review on-line. This schedule includes a complete list of scheduled presentations, presenters, and abstracts.
Attendance to the Mini-Sessions is included with meeting registration. Attendees of the Mini-Sessions have an opportunity to:
Learn the latest techniques, products, and processes directly from producer, manufacturer, and suppliers.
Gain additional details regarding products and services featured on the exhibit floor.
Identify and locate the experts— companies who provide specific solutions.
Special Exhibitor Presentations Feature:
New and innovative technology
Equipment and process innovations
Technical areas featured in the Mini-Sessions include:
Casting Technology
Refractory Technology
Furnaces
Carbon Technology
Aluminum Processing and Technology
For a complete list of 2001 Exhibition Participants, view the Exhibitor List. To take part in the Exhibition and Mini-Sessions or for more details, contact Cindy Wilson at Phone: (724) 776-9000 x231. E-mail: wilson@tms.org
---
The information on this page is maintained by the TMS Meetings Department (mtgserv@tms.org).