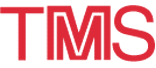 2001 TMS Annual Meeting: Exhibitors Product and Technology Mini-Sessions
---
February 11–15 · 2001 TMS ANNUAL MEETING · New Orleans, Louisiana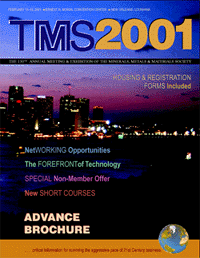 During the week of February 11–15, 2001, at the 130th Annual Meeting & Exhibition of The Minerals, Metals & Materials Society (TMS), you can join more than 4,000 science and engineering professionals, representing more than 70 different countries, who will come together for the opportunity to add to their own store of knowledge by capitalizing on the expertise and experience of their colleagues. More than 200 sessions and 1,000 individual presentations are scheduled. Whether your technical interests lie in precious metal extraction, aluminum processing, high-temperature superconductors, or just about any other materials field or metallurgical discipline, you will find programming that addresses your most pressing needs.

As a complement to the 2001 Technical Program, exhibitors will make the following presentations featuring new technologies, equipment and processes. Exhibitor Mini-Sessions will be held in the Presentation Area in the La Louisiane Ballroom.

Attendees of the Mini-Sessions have an opportunity to:
Learn the latest techniques, products, and processes directly from producer, manufacturer, and suppliers.
Gain additional details regarding products and services featured on the exhibit floor.
Identify and locate the experts—companies who provide specific solutions.
Attendance at the Mini-Sessions is included in your meeting registration.
PRESENTATION SCHEDULE AND ABSTRACTS
The product and technology mini-sessions will be held in the La Louisiane Ballroom, Ernest N. Morial Convention Center:
Monday, February 12, 2001--11:45 to 2:00 p.m.
Tuesday, February 13, 2001--11:45 to 2:00 p.m.
Topic: CARBON TECHNOLOGY
Date: Monday, February 12, 2001
Topic: FURNACES & GENERAL RECYCLING
Date: Monday, February 12, 2001
Topic: CASTING & PRIMARY PRODUCTION TECHNOLOGY
Date: Tuesday, February 13, 2001
Topic: REFRACTORY & INSULATING TECHNOLOGY.
Date: Tuesday, February 13, 2001
SESSION ABSTRACTS
---
SESSION 1:
Topic: CARBON TECHNOLOGY
Date: Monday, February 12, 2001
---
Time: 1:00 PM
Presented by: R&D CARBON LTD, Markus Meier
Tittle: Dynamic Process Optimization (DPO)
High anode quality and plant productivity require optimized processing steps. Optimizing full size anodes by trial-and-error is inefficient and expensive due to scrap generation and poor pot performance. The dynamic process optimization (DPO) from R&D Carbon Ltd. is a fast and inexpensive method to improve anode quality and plant productivity.
Time: 1:20 PM
Presented by: JERVIS B WEBB WORLDWIDE COMPANY, Daniel L. Borich
Title: Improve Material Handling Efficiency
Practical application of automatic guided vehicles; power and free conveyors; heavy-duty conveyors, automated storage and retrieval systems; and automation equipment for anode or slab handling, butt removal and thimble presses.
Computer directed Webb conveyors and integrated material handling products can automate rod/anode assembly, and improve green or baked anode management to help increase efficiency in aluminum production operations.
Time: 1:40 PM
Presented by: MASCHINENFABRIK GUSTAV EIRICH, Berthold Hohl
Title: State-of-the-Art Anode Paste Preparation Plants

An interesting new process for the preparation of anode paste is presented. It represents an alternative to the conventional process technology which has remained almost unchanged for decades. The new process is based mainly on the electric heating of the dry substances as well as on the subsequent separate homogenizing and cooling in an intensive mixer and a mixing cooler. The new technology is characterized by drastically reduced energy consumption, exact temperature control, minor wear and tear and little maintenance expenditure, low investment cost and finally an optimum anode quality. Plant operation is possible in continuous or batch-wise mode.
---
Topic: FURNACES & GENERAL RECYCLING
Date: Monday, February 12, 2001
---
Time: 12:30 PM
Presented by: EMP TECHNOLOGIES, Alan Peel
Title: The Use of Electro-Magnetic Pumping for Melting and Circulation of Aluminum to Provide production and Quality Benefits to the Aluminium Cast House

The paper discusses how one technology, Electromagnetic Pumping, which was developed for the combined purpose of; Melting aluminium scrap with a reduced melt loss and; Effective circulation of the aluminium melt, has established its self in recent years, as an effective means of satisfying many of these industry requirements. The paper discusses how the system ultimately reduces the compromises that have previously existed with some of the new technologies, but how it has also provided many other additional operational benefits to the aluminium cast house.
Time: 12:50 PM
Presented by: LOI, Inc., Don Martosko
Title: Furnaces for Aluminum Scrap
Schmitz+Apelt LOI features the Twin-Chamber melting furnace, for state-of-the-art melting of contaminated aluminum scrap without using salt, resulting in low energy and fuel consumption, minimal metal loss, and reduced dross accumulation in the bath. This process is based on low-temperature carbonization, and subsequent incineration of the contaminants, making it an environmentally compatible solution.
Time: 1:10 PM
Presented by: STAS, Martin Taylor
Title: Recently Developed Technologies for Dross Treatment & Cooling
STAS has considerable expertise in the treatment of dross, starting with dross cooling—the inert gas dross cooler—and following through to the extraction of aluminium from the cooled drosses using recently developed and commercialized technologies, in a salt free environment and disposal of the residues; these processes will be outlined.
Time: 1:30 PM
Presented by: EDAX, INC., Gary Meyer
Title: The EDAX Waste Fume Analyzer
The EDAX Waste Fume Analyzer (WFA) is a real time metals monitor for airborne particles and fumes from pyrometallurgical processes. The XRF instrument directly quantifies iron and other metals in real-time in gases up to 800 C. The water cooled analyzer mounts directly on the exhaust duct and operates completely unattended.
Time: 1:50 PM
Presented by: ALTEK INTERNATIONAL, Peter Schirk
Title: Dross Processing Today and the Future
The dross press developed and patented by Altek International has been the best available technology for processing dross for the past 8 years. New developments and patents on this system are making it even more versatile for a varying range of dross types.

New developments in the area of hot dross processing implemented this past year at Hydro Aluminum's Holmestrand rolling facility using the Altek rotary furnace system may revolutionize the expectations of recoveries from generators of dross. Unprecedented results have been obtained by treating the dross immediately after skimming in our hot dross processing system. The total process includes operator interaction on skimming procedures, rotary furnace processing and tumbling and cooling the residual material after recovering the aluminum from the dross. Various flux materials can be used to minimize the amount of waste generated. New processes and ideas can utilize a portion of these by-product materials.

All these areas will be discussed in ths presentation.
---
Topic: CASTING & PRIMARY PRODUCTION TECHNOLOGY
Date: Tuesday, February 13, 2001
---
Time: 11:30 AM
Presented by: MAG CHEM INC., Jean Desroches
Title: Oxydation Profil of Casting Fluids and Impacts on the Fluid Selection
Abstract: Vegetable oils are frequently used as lubricant for casting of lights metals. These oils oxydize, polymerise and form vanishs on the mold. They are also nutrients for bacteria and can react with water to form buttery deposits in the casting pit. MagChem's casting fluids are not sensitive to such conditions and this will be presented in this session.
Time: 11:50 AM
Presented by: STEIN ATKINSON STORDY LTD., Mike Unitt
Title: DC Casting Mould Level Control
This paper will focus on the use of laser level devices for the metal level control on Wagstaff Low Head Composite Mould (tm) and the methods used in varying the mould metal height throughout the Direct Chilled Casting Process to optimize the cast quality.
Time: 12:10 PM
Presented by: HYDRO ALUMINIUM HYCAST, Per Gunnar Strand
Title: RAM Technology is Adding a New Dimension to Melt Refining
The Hycast Removal of Alkaline Metal (RAM) is designed to improve product quality and profitability where all pretreatment of potroom metal is concerned. Figures from existing installations show a considerable operation cost reduction in the production line, improved casthouse HSE and definitely a better end product. All Hycast products, from RAM to In-line filters, Rod Feeders and Gas Cushion mold systems for billet have all been created as a result of the market demands and Hydro Aluminium`s needs for taking total casthouse economy into account. This presentation will describe the benefits by installing the Hycast RAM and also highlight Hydro Aluminium`s typical production lines from RAM to casting.
Time: 12:30 PM
Presented by: BLASCH PRECISION CERAMICS, Kevin A. Carpenter
Title: Improvements in Materials for Degassing Systems
A ceramic material is now available that addresses many deficiencies and improves the performance of existing degassing systems. Much work has been done on system design, but optimization of materials for these systems has not kept pace. Now there is a ceramic material with a nominal pore size of 5 microns, about 10% that of conventional ceramic materials, allowing a large volume flow of fine gas bubbles, a key criterion for degassing efficiency. This fine pore size also prevents molten metal from penetrating the ceramic, increasing the effective life of the product. The ceramic also exhibits good mechanical strength and excellent resistance to wetting by aluminum, enhancing the durability of the product. Unlike graphite, a common component material for rotary degassers, thisceramic material will not erode from oxidation, another life extending advantag
Time: 12:50 PM
Presented by: GVI, Julien Bousquet
Title: Multimedia Expert Help Systems
GVI develops high performance multimedia expert help systems. They are mainly designed to help organisations become more competitive by increasing the personnel's autonomy and knowledge while capitalising on their competence. The "GVI expert help system" is a great tool. User-friendliness and ease of use make the system easy to learn.
Time: 1:10 PM
Presented by: HERAEUS ELECTRONITE, Peter White and Rik Kelchtermans
Title: C-V-THERM – A New Cost Efficient Shop-Floor Sensor for Combined Measurement of Bath Temperature and CVD
A new sensor, C-V-Therm, is described which provides a combined measurement of bath temperature and cathode voltage drop (CVD). Several customers are already beginning to realize the benefits of C-V-Therm, namely ease of use, accurate and reproducible measurements, automatic downloading of data from instrument to PC and reduced labour costs associated with the CVD measurement.
Time: 1:30 PM
Presented by: WAGSTAFF, Craig Johnson
Title: New and Emerging Wagstaff Technologies
Wagstaff, Inc. is a leading developer and manufacturer of direct chill casting technologies and equipment for the aluminum industry. This presentation will be an overview of new and emerging Wagstaff technologies, including Wagstaff VariMold(TM) Adjustable Ingot Casting Technology and Wagstaff NetCast(TM) Shape Casting Technology.
Time: 1:50 PM
Presented by: BROCHOT
Title: ALCOTECH Contract for the Ramming of 432 Potshells at the Alcan Alma Smelter
ALCOTECH completed successfully the full lining of 432 potshells at Alcan Alma site within 9 months. ALCOTECH will describe the organisation set up in order to achieve the output rate of 3 pots per day (a first ever achievement) needed to meet ALCAN tight schedule for going on stream while still maintaining tight control over quality.
---
Topic: REFRACTORY & INSULATING TECHNOLOGY.
Date: Tuesday, February 13, 2001
---
Time: 12:10 PM
Presented by: ZIRCAR CERAMICS INC
Title: Generation Now Castertips
With the trend in continuous twin roll aluminum strip casting heading ever wider and thinner, greater performance will be required from the castertips employed on such systems. Several varieties of ceramic fiber based castertips exist that have been part of establishing what in many instances are record production levels. New production efficiencies on these wider and thinner casters will come with advances in castertip technology. This paper discusses a variety of recently developed low-mass castertip products.
Time: 12:30 PM
Presented by: BENCHMARK STRUCTURAL CERAMICS, Jim Bergantz
Title: BensalTM: Sintered Sialon Performance at Nitride Bonded Silicon Carbide Price.
Benchmark introduces BensalTM, a high technology Sialon Bonded Silicon Carbide ceramic. This reaction-bonded composite has unique properties especially suitable for use with light metal melting and casting, including: excellent thermal shock and non-wetting characteristics; light weight and thin walls; and good heat transfer. Firing does not change the green machined shape, so BensalTM does not require dense grinding to meet final dimensions or tolerances. Because of this, we will be presenting new product information about BensalTM, including some unique shapes not usually seen in reaction-bonded ceramics
Time: 12:50 PM
Presented by: HOTWORK, Sandy Ralsten, Industry Manager
Title: Remotely Attended Heating with Hotwork's HotTecTM System
Thirty-six years ago Hotwork invented a burner with an unsurpassed range. This burner was driven with a constant, high-velocity combustion air supply, creating an ideal heating system for reliable refractory dryouts.

In the 1990's, microprocessors and cell phone capabilities were integrated into this existing high velocity system and HotTecTM was created.

Now a refractory dryout can be monitored off site by a skilled refractory dryout technician ensuring the highest quality dryout at a cost-effective rate.

Operational since 1996, the HotTecTM system is successfully adapted to many different heating applications and has been accepted by major aluminum producers.
Time: 1:10 PM
Presented by: SILVER NEEDLE, Larry Stinson
Title: Protective Clothing and Preventing Heat Stress
The purpose the presentation will be to review the expectations plant manager's should have of their safety director and their safety program, and to discuss the possible economic and legal repercussions of safety issues to individuals and organizations.
Time: 1:30 PM
Presented by: REX ROTO CORPORATION, Dean E. Venturin, Unifrax Corporation USA in association with Rex Roto Corporation USA
Title: An Overview of Refractory Ceramic Fibers (RCF) Recent Developments and Comparative Risk Relative to Conventional "Hard" Refractories and Soluble Fibers
Refractory Ceramic Fiber (RCF) has long been recognized for its superior insulating properties for use in many high temperature industrial applications. Products such as paper and blanket textiles, fiber ropes, moldables, and metal delivery launders have been used for decades by aluminum producers throughout the world.

Over the years, the use of RCF has been the subject of ongoing risk management initiatives (e.g., workplace monitoring, engineering control evaluations, health effects research, and material handling "best practices".

More recently, a number of key scientific studies have been completed that include various quantitative risk assessments, an epidemiological investigation of European and American RCF manufacturers, and the evaluation of RCF devitrification and crystalline silica exposures resulting from after-service RCF removals vs. the use of conventional "hard" refractories.

The purpose of this presentation is to update users on recent developments concerning the use of RCF-based materials is the aluminum industry.

---
The information on this page is maintained by Cindy Wilson (wilson@tms.org).