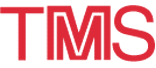 2001 TMS Annual Meeting & Exhibition: Sponsorship Opportunities
---
February 11–15 · 2001 TMS ANNUAL MEETING · New Orleans, Louisiana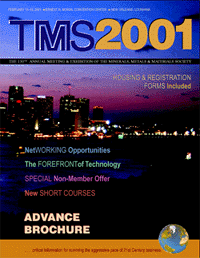 ---
RESERVE YOUR OPPORTUNITY
---
Reserve your sponsorship opportunity, by completing the appropriate reservation form. Complete the form on-line, or print, complete, and mail or fax the form to Cindy Wilson, Marketing Coordinator, 184 Thorn Hill Road, Warrendale, PA 15086-7514; telephone (724) 776-9000, ext. 231; fax (724) 776-3770; e-mail wilson@tms.org.
---
During the week of February 11–15, 2001, at the 130th Annual Meeting & Exhibition of The Minerals, Metals & Materials Society (TMS), you can join more than 4,000 science and engineering professionals, representing more than 70 different countries, who will come together for the opportunity to add to their own store of knowledge by capitalizing on the expertise and experience of their colleagues. More than 200 sessions and 1,000 individual presentations are scheduled. Whether your technical interests lie in precious metal extraction, aluminum processing, high-temperature superconductors, or just about any other materials field or metallurgical discipline, you will find programming that addresses your most pressing needs.

TMS is pleased to offer key sponsorship opportunities in conjunction with the 130th TMS Annual Meeting & Exhibition. Sponsorship will:
Present your company as a true industry leader.
Help your company gain high levels of visibility and mind share within the materials and metals communities.
Add to the value of your presence at TMS 2001.
Ensure corporate recognition among the prime buying prospects who attend the 2001 TMS Annual Meeting & Exhibition.
Inform colleagues and clients that you support the industry and project the positive image of your company
Earn your company a bonus exhibitor priority point for each $500 of sponsorship.
Provide "spotlight" recognition in the 2001 TMS Annual Meeting & Exhibition program, in JOM, and on the event world wide web page.
Identify your organization as an industry leader on signage.
Sponsorship Opportunities Available
TMS Foundation Golf Classic
Sunday, February 11, 2001
Eastover Country Club, New Orleans, Louisiana
All attendees of the 2001 TMS Annual Meeting & Exhibition are invited to participate in the Fourth Annual TMS Foundation Golf Classic. The Course is home to the State Classic and the State Championship and is listed as "The best course in New Orleans" by Golf Digest.

As a tournament sponsor, your organization can help the TMS Foundation and receive recognition in conjunction with a quality, fun, and popular event. In addition to the special sponsor bonuses listed with each opportunity, organizations who become sponsors will be acknowledged in the following ways:
In the meeting technical program received by all attendees.
On signs and banners
During the luncheon presentation
In the TMS Foundation newsletter
In the Society journal, JOM.
One TMS exhibitor priority point is awarded for every $500 of sponsorship.
Tournament will be conducted in a scramble format with prizes awarded for Longest Drive, both men's and ladies', and Closest-to-the-Pin contests. Random drawings for door prizes and a Hole-in-One Contest with a grand prize will also be presented.
Continental Breakfast
Exclusive Sponsorship
Investment $750 Breakfast will be available for all registrants prior to the shotgun start. Sponsorship of the breakfast includes table signage and one complimentary tee time.
Driving Range Sponsor
Exclusive Sponsorship
Investment $500 Sponsorship supplies a bucket of balls for each participant. You receive special signage and two complimentary, individual tee times.
Beverage Carts
Two Sponsorships Available
Investment $750 each Cart will be equipped with a cooler containing an assortment of beer and soft drinks. Your company name will appear on signage affixed to each cooler. This opportunity also includes two complimentary, individual tee times.
Hole-in-One Contest
Esclusive Sponsorship
Investment $1,000 The contest will feature a grand prize of a car on one designated hole and supplemental travel awards on all other par three holes. Special sponsor recognition and two complimentary, individual tee times are included.
Closest-to-the-Pin Contest
Two Sponsorships Available for front or back nine
Investment $500 each Special prizes are to be awarded. Special signage and one complimentary, individual tee time is included.
Longest Drive Contest
Two Sponsorships Available for front or back nine
Investment $500 each This contest will include male and female participant awards. Special signage and one complimentary, individual tee time are included.
Hole Sponsors
18 Sponsorships Available
Investment $300 each Sponsorship includes special tee signs imprinted with your company name and/ or logo.
Lunch Buffet & Awards Presentation
Investment $1,500 Immediately following play a delicious barbecue luncheon buffet will be served at the Clubhouse. As sponsor you will receive recognition on the banner and scoreboard displayed at the luncheon; a representative of your company will be invited to give a brief welcome and take part in the awards presentation; and you will receive one complimentary foursome pass in the tournament.
Bottled Water
Investment: $500 per sponsor
Bottled spring water featuring your logo on the label will be distributed from a station in the Central Lobby area.
Electronic Information Center
Investment: $2,000 per day

By far the busiest spot at the 2000 TMS meeting!
This focal area will be located near Registration in the Ernest Morial Convention Center. Attendees are given access to computer stations where they can access e-mail, log onto the internet, and post messages for other attendees on the Electronic Bulletin Board.

Included with sponsorship:
Signage featuring your company's logo on computer station counter headers
Company logo or artwork as the screen saver
Wallpaper with company logo/artwork
Default start up page to your company's website
Customized advertising postings on the electronic bulletin board
Technical Session Coffee Breaks
Investment quoted per location/per day
| | | |
| --- | --- | --- |
| Mon, Tues., Wed. | 1 location | $ 375 |
| | 3 locations | $ 1,000 |
| Thurs. | 1 location | $ 200 |
| | 3 locations | $ 500 |
Gain exposure to conference attendees by sponsoring a morning or afternoon coffee break. Your company will receive name recognition on signage along with the right to distribute company brochures during the coffee breaks. $1,000 level includes napkins printed with your logo. Beverage charges are included. Three prime locations, morning and afternoon. You may choose to sponsor one location near the technical session rooms of your choice, or you may sponsor all three locations and reach all attendees. Return the response form or Contact TMS for session locations, days & times for this opportunity.
Exhibit Hall Lunch
Investment: $200/square foot of booth space
(10' x 10' booth--Investment: $200)
When: Tuesday
Hosted lunch will be provided in the exhibit hall to all conference registrants on Tuesday, during the mid-day technical session break. Tickets for the lunch will be distributed to all registrants in their registration packets. Your company can gain exposure as a sponsor of this popular event. Investment includes signs acknowledging sponsor throughout the meeting and at food stations and your company name printed on the tickets.
Afternoon Refreshment Break/Treat
Investment: $500
When: Wednesday
Stations distributing a New Orleans treat to all meeting registrants will be located throughout the exhibit hall. Signs recognizing your company as sponsor will appear at each station.
Student/Faculty Mixer
Investment: $2,000
When: Tuesday Evening
The TMS Annual Meeting is especially exciting to those who are about to embark on their careers and who are eager to meet and exchange knowledge and experiences with their counterparts from other countries. The Student/Faculty Mixer brings together more than 500 students and TMS members for two hours that includes beverages, snacks, and a DJ for dancing. As sponsor, your organization will be invited to have a representative address the attendees. Sponsor name and logo will be featured on major signage and logo napkins printed. Your involvement in these student activities will pay dividends in the years to come.
Flags of Attendee Countries
Investment: $1,000
Even more than their professional identity, participants prize their respective national identities, and nothing bonds those from different cultures like a rousing display of national flags. Historically, 60 countries are represented at the TMS Annual Meeting. A flag from each country will be prominently displayed, with signage acknowledging sponsoring organization.
Shuttle Bus
Investment: $500
Shuttle buses will be running continuously during show hours between hotels and the convention center. A sign with your name, logo, and booth number will be displayed on the exterior of the bus. Sponsor will also receive recognition on sandwich signs at pick-up points, in the show program, in the visitor badge letter, and on-site signage.

Camera Ready Logo Due: December 15, 2000
Meeting Signage
Investment: $1,500

This opportunity provides excellent visibility for your company as sponsor of the signage for the meeting.
Company logo and small tag line will appear on the directional and events signs located throughout the Ernest Morial Convention Center and headquarters hotel.
Registration/Program Bags
Investment: $2,000

Exclusive Opportunity!
Choose to put your company name, logo, and booth number on the official show bags distributed at registration. Sponsor may opt to supply pre-printed bags or have us take care of the production. TMS reserves the right to review all material prior to production. Prices above do not include production of bags.

Deadline: November 12, 2000
TMS Banquet Reception
Investment: $1,500
When: Tuesday, 6:00 p.m.-7:00 p.m.
This unique opportunity allows your organization to have a prominent place with the leaders of science and industry. The reception features an open bar and hors d'oeuvres. Each guest will receive a banquet program acknowledging your sponsorship. Your company name and logo will be prominently displayed on signage entering the reception area and on the reception napkins.
Refreshments at Grand Exhibit Hall Opening
Investment: $5,000-$10,000

A wine and cheese reception will celebrate the opening of the Exhibit Hall at TMS 2001. Put your company's name in front of everyone attending with signage, custom logo napkins, and acknowledgement in the program.
Prize Drawings
Investment: $2,000 each drawing
When: Tuesday and Wednesday, 1:30 p.m

Digital Camera and Digital Video Camera
The highlight of each exhibition day. Tuesday and Wednesday during the exhibition, you have the opportunity to sponsor a drawing for a digital camera. All conference registrants will receive a ticket featuring your company name to deposit into the bin on the show floor to enter the drawing.

Sponsor recognition also includes:
Signage promoting the drawings throughout the conference
E-mail to conference pre-registrants and authors notifying them of the drawing and acknowledging sponsor
Banner prominently displayed in the drawing area
Advertisement for the drawing with your logo in the meeting program
Authors' Coffee
Investment: Monday-Wednesday, $500 each day; Thursday, $250
When: Monday through Thursday mornings
Each morning up to 500 speakers gather with fellow technical program presenters for a continental breakfast to discuss the program schedule and review their presentations. Take this opportunity to sponsor one or more morning's breakfast. In addition to the standard recognition, your company name will appear on signage in the Authors' Coffee area. Select the day(s) you wish to sponsor.
Final Program Back Cover
Investment: $3,000

Exclusive
The most read publication at the TMS Annual Meeting, no participant can find his or her way around without this directory. When the meeting is over, the book goes home with the participant, where it is often referred to and shared with countless others. Let this advertising medium spread your corporate message to materials science professionals everywhere. Your full-page advertisement will appear inside the program.
Badge Lanyards
Investment: $500

Exclusive

Sponsor receives name recognition on badge lanyards distributed to all attendees at registration.

Sponsor provides product, quantity 4,500.
Additional Opportunities
The opportunities for sponsorships at the TMS 2001 Annual Meeting & Exhibition are many. If you have an idea for sponsorship that you would like to see developed, please call Cindy A. Wilson at TMS to discuss additional opportunities.
Cindy A. Wilson
TMS
Phone: (724) 776-9000, ext. 231
Fax: (724) 776-3770
E-mail: wilson@tms.org
---
The information on this page is maintained by the TMS Meetings Department (mtgserv@tms.org).