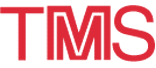 2001 Exhibition: Marketing Opportunities
---
February 11-15 · 2001 TMS ANNUAL MEETING · New Orleans, Louisiana


During the week of February 11–15, 2001, at the 130th Annual Meeting & Exhibition of The Minerals, Metals & Materials Society (TMS), you can join more than 4,000 science and engineering professionals, representing more than 70 different countries, who will come together for the opportunity to add to their own store of knowledge by capitalizing on the expertise and experience of their colleagues. More than 200 sessions and 1,000 individual presentations are scheduled. Whether your technical interests lie in precious metal extraction, aluminum processing, high-temperature superconductors, or just about any other materials field or metallurgical discipline, you will find programming that addresses your most pressing needs.

To reserve your sponsorship opportunity, download the sponsorship reservation form, presented in portable document format, readable using the free software Adobe Acrobat Reader. Print, complete, and mail or fax the form to Cindy Wilson, Marketing Coordinator, 184 Thorn Hill Road, Warrendale, PA 15086-7514; telephone (724) 776-9000, ext. 231; fax (724) 776-3770; e-mail wilson@tms.org.
Bonus Marketing Opportunities
The following additional opportunities are made available to add to the value of your participation and increase your opportunities to reach an optimum number of customers and prospects. Remember, opportunities are limited and demand is high—secure the sponsorship that best fits your budget early.

Advertising

Discount advertising opportunities are available in the show is-sues of JOM, the Society journal, and on the conference website. An advertisement in the show issues of JOM will:
Be seen by thousands of decision-makers and buyers
Help you to pave the way for a successful show
Expose your message to thousands of leading materials professionals who read JOM and may not be able to attend the exhibition.
Pre-Show Report + Updated Show Directory
The show guide—printed in the November issue of JOM, published on the TMS Annual Meeting & Exhibition website, and distributed as the Show Directory at the meeting—provides maximum exposure to prospects. The Web version features a free hypertext link to the Exhibitor's website.

Sponsorship

TMS offers a sponsorship package that will provide participating companies with a unique opportunity to present themselves as a true industry leader, while gaining a high level of visibility within the materials technology community.

This program incorporates value-added benefits that will allow sponsoring vendors to maximize the TMS promotional campaign before, during and after the event! Exhibiting firms have first option on sponsor opportunities at the Annual Meeting.

Admittance Coupons/Invitation

A $35.00 value, these coupons can be distributed to your customers and prospects as an invitation for free access to the exhibit area.

Access to Lead Tracking Services at Show Site

Each attendee is supplied with a magnetic-strip lead retrieval card Card reader systems are available for rental to all exhibiting companies to simplify lead recording, categorizing and tracking.

Pre-Registration List

Interested in promoting your participation to pre-registered attendees? The pre-registrants list can be provided electronically approximately one month prior to the Annual Meeting.

Post-Show Attendee List

A complete list of the 2001 attendees is provided to exhibitors electronically one month following the Annual Meeting.

Show Promotional Support

TMS strongly supports the 2001 Exhibition with a comprehensive marketing campaign which includes:
Direct mail to targeted lists of industry leaders
Industry specific advertising in important trade publications
Public relations to generate press coverage
Complete World Wide Web coverage via TMS OnLine and information listings on many related sites

Reservations are being accepted for sponsorship opportunities offered during the 2001 TMS Annual Meeting & Exhibition. Contact TMS to discuss a sponsorship tailored to fit your company's needs and budget.


Cindy Wilson, Marketing Coordinator
184 Thorn Hill Road, Warrendale, PA 15086-7514
Telephone (724) 776-9000, ext. 231; fax (724) 776-3770
E-mail wilson@tms.org
---
The information on this page is maintained by the TMS Meetings Department (mtgserv@tms.org).