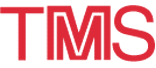 2001 TMS Annual Meeting & Exhibition: Exhibitor Prospectus
---
February 11–15 · 2001 TMS ANNUAL MEETING · New Orleans, Louisana
During the week of February 11–15, 2001, at the 130th Annual Meeting & Exhibition of
The Minerals, Metals & Materials Society
(TMS), you can join more than 4,000 science and engineering professionals, representing more than 70 different countries, who will come together for the opportunity to add to their own store of knowledge by capitalizing on the expertise and experience of their colleagues. More than 200 sessions and 1,000 individual presentations are scheduled. Whether your technical interests lie in precious metal extraction, aluminum processing, high-temperature superconductors, or just about any other materials field or metallurgical discipline, you will find programming that addresses your most pressing needs.
Why Exhibit in New Orleans?
Over 4,500 of the world's metals and materials leaders will convene in New Orleans for one dynamic week of technical presentations, exhibits, and networking.

Top researchers, engineers, scientists and producers are attracted to the TMS Annual Meeting Exhibition for extensive information on:
Metals and materials fabrication technology
The latest research findings
New product innovations
Electronic, robotic or technological developments
Industry, market and government trends in research, engineering and production
. . . critical information for surviving the aggressive pace of 21st century business.
Plan now to reserve space for the 2001 TMS Exhibit and join science and industry's leading players to:
Integrate technologies
Determine solutions
Anticipate the needs of the future
Please accept our invitation to join over 170 exhibiting organizations (view this year's list of exhibitors) in New Orleans at the TMS Annual Meeting, February 2001.
---
The information on this page is maintained by the TMS Meetings Department (mtgserv@tms.org).