---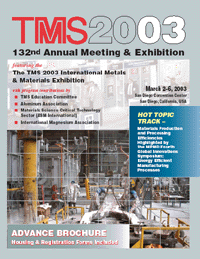 ---
ABOUT THE PRESENTERS
---
Charles Kuehmann
is a leader in the field of computer-aided systems design of materials. As a founding member of QuesTek Innovations, he has directed the development of advanced gear and bearing steels, ultra high-strength steels, and ferritic superalloys using Thermo-Calc, DICTRA and other custom thermochemical and kinetic models. He directed the applications of these tools to achieve improvements in strength, toughness, corrosion resistance, fatigue, hydrogen resistance, and magnetic properties by the Materials by Design® method. Dr. Kuehmann holds a Ph.D. in Materials Science and Engineering from Northwestern University.
---

Greg Olson
is a recognized world leader in materials design. A co-founder of QuesTek Innovations, and founder of the multi-institutional Steel Research Group (SRG), he has been a Professor in the Department of Materials Science and Engineering at Northwestern University since 1988, and Wilson-Cook Professor of Engineering Design since 1999. Current areas of research include general kinematic theory of interphase boundary structure, the mechanism and kinetics of coupled diffusional/displacive transformations, the electronic basis of embrittlement mechanisms in metals, the "first principles" design of new steels, structure and mobility of crystal interfaces, structure/mechanical property relations, application of highresolution microscopy and microanalysis and applications of materials science to molecular biology. Prof. Olson holds an Sc.D. in Materials Science and Engineering from MIT.
---
COMPUTATIONAL MATERIALS DESIGN
Dates:
Sunday, March 2, 2003• 8:30am-5:00pm

Presented by:
Greg Olson, Northwestern University
Charles Kuehman, QuesTek Innovations
Fees:
Members $475, Non-members $560


Sponsored by: TMS Materials Processing and Manufacturing Division

Who Should Attend:
This course will be useful to individuals that are involved in materials and/or process development and would like to expand their skills to take advantage of emerging computational modeling and systems design technologies. Attendees will learn how mechanistic modeling coupled with a engineering systems approach to materials structure and processing can cut development time and cost. and offered either a transfer or a full refund.

Course Overview:
Traditional materials and process development is a highly empirical, time consuming and expensive process. Often the results of such activities are poorly understood and suffer failure during scale-up or in the field because they are not robust. Simply replacing experiment with computational modeling in this process is beneficial but not ideal. To achieve the optimal results a design-centered approach is necessary.

This course will demonstrate how to treat materials as systems, realizing the necessary complexity of real materials yet building a framework that breaks it into pieces that are manageable. Computational modeling capabilities will be reviewed from a design perspective to illustrate how to build and select appropriate tools. Techniques to generate and evaluate design alternatives will be covered and some specific examples will be provided. Design principles for robust solutions will also be presented. The course will wrap-up with an overview of emerging technologies to aid materials development beyond design into development and implementation.
Other Short Courses:
Below is a list of the other short courses that are scheduled for the 2003 TMS Annual Meeting and Exhibition:
---