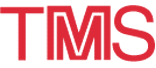 About the 1997 TMS Annual Meeting: Author's Information
---
February 9-13 · 1997 TMS ANNUAL MEETING · Orlando, Florida

The 1997 TMS Annual Meeting will be held in Orlando, Florida's Orange County Convention Center from February 9-13, 1997. More than 200 technical sessions and 1,000 individual presentations will provide new approaches and solutions to complex problems in materials science and engineering. Authors taking part in this meeting are requested to adhere to the following guidelines:

AUTHORS' COFFEE: Authors are requested to attend the Authors' Coffee on the morning of their presentation only. Authors' Coffee will be from 7:15 a.m.-8:15 a.m., Monday through Thursday on Level 3, Grand Lobby Overlook, above Hall E and F, at the Orange County Convention Center.

AUDIO VISUAL HEADQUARTERS AND SLIDE PREVIEW AREA: Authors are invited to preview their slides before their technical presentation. Slide preview will be available in Room 330D, Level 3, Orange County Convention Center and Salon 16 at the Clarion Plaza Hotel. Hours: Monday through Wednesday 7:00 a.m.-5:00 p.m. and Thursday 7:00 a.m.-11:30 a.m., convention center only.

AUDIO/VIDEO RECORDING: The Minerals, Metals & Materials Society (TMS) reserves the rights to any audio and video reproduction of all presentations at every TMS-sponsored meeting. Recording of sessions (audio, video, still-photography, etc.) intended for personal use, distribution, publication, or copyright without the express written consent of TMS and the individual authors is strictly prohibited. Contact the TMS Technical Programming Department at weissp@tms.org to obtain a copy of the waiver release form.

POSTER SESSION: A poster session will be held in conjunction with the 1997 TMS Annual Meeting. Presentations will be displayed on 4 x 8 foot poster boards; no formal presentation is required. The Poster Session will begin Monday, February 10 and remain in place through Wednesday, February 12, located at the Orange County Convention Center.

EDITORS' & ORGANIZERS' WORKSHOP: This year the Editors'/Organizers' Workshop will be held on Tuesday, February 11, at 9:30 a.m. in the Slide Preview Room, 330D, Level 3, Convention Center. All current organizers, as well as those considering organizing a TMS symposium in the future, and all editors and prospective editors of TMS conference proceedings are strongly encouraged to attend. This workshop will cover the basics of obtaining approval for publication; policies on various aspects of publishing; publishing options; time-tables; proceedings editing practices; and insights by other editors. A prototype demonstration of the Symposioum Information System, as well as a review of the Organizer Handbook are also planned. The workshop is intended to enable organizers and editors to deal confidently and efficiently with organizing a symposium and publishing the proceedings.

---
The information on this page is maintained by TMS Customer Service Center (csc@tms.org).