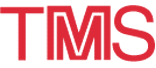 1998 TMS Annual Meeting: Tutorial Luncheon Lecture
---
February 15-19 · 1998 TMS ANNUAL MEETING · San Antonio, Texas
The 1998 TMS Annual Meeting & Exhibition will take place at the Henry B. Gonzalez Convention Center in San Antonio, Texas, February 15-19, 1998.
TMS will once again present its extremely popular Tutorial Luncheon Lecture Series at the meeting. This series offers an informal seminar atmosphere for expert presentations on subjects designed either as theoretical review or as informal discussion of experimental techniques and leading edge scientific advancements.
"The Role of Minerals in Papermaking and Paper Recycling"
Sponsored by: TMS Young Leaders Committee
Presenter: John K. Borchardt
When: Monday, February 16, 12:00 noon-1:30 p.m.
Cost: $15, includes a "brown bag" lunch. No charge for attending the lecture only.

About the topic: White minerals and inorganic chemicals derived from minerals play an important role in papermaking. The primary minerals used include kaolinite, calcium carbonate, magnesium silicates (talc), and titanium dioxide. As a result of being important paper ingredients, these minerals have a significant impact on recycling. Recycling concerns which will be addressed include:
Should the minerals be separated from the cellulose fibers? This depends on the type of paper to be made from the recycled cellulose fibers. If they are not separated, what is their effect on papermaking?
When separating minerals from cellulose fibers, what unit operations are used? How can the efficiency of mineral separation be improved?
How can the separated minerals be used or disposed of in an environmentally acceptable manner?
About the presenter: John Borchardt received his B.S. degree in chemistry from the Illinois Institute of Technology and his Ph.D. in organic chemistry from the University of Rochester. After two years post-doctoral research at the University of Notre Dame, he began working for Hercules, Inc., as a synthetic organic chemist. He began working for Halliburton Services in 1977. There he worked on the development of water-soluble polymers for various oilfield applications. In 1984, he began working for Shell Development Company. There he has worked on surfactant development for paper industry, oil industry, industrial cleaning, and household cleaning applications.
Dr. Borchardt is the author of more than 80 scientific and technical publications and holds 29 U.S. and more than 100 patents in other countries.

---
The information on this page is maintained by the TMS Customer Service Center (csc@tms.org).