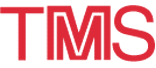 Materials Week '97: Materials Exposition
---
September 14-18, 1997 · MATERIALS WEEK '97 · Indianapolis, Indiana

Sponsored by The Minerals, Metals & Materials Society (TMS) and ASM International, Materials Week '97 will be held September 14-18, 1997, at the Indiana Convention Center in Indianapolis, Indiana. At this meeting, the latest materials, processes, products, and services will be on display. While traditionally strong in materials testing, analysis, and characterization, the expo also covers engineered materials, high-performance metals, powder metals, metal forming, surface modification, welding and joining, and reinforced plastics and composites.
At the same exhibit hall, you will also be able to tour the 17th ASM Heat Treating Society Exposition and the United Thermal Spray Conference Exposition at no extra charge. (See ASM's Annual Event '97 site for more detail on these conferences.) You will also have the opportunity to enjoy complimentary food and beverages throughout the exhibit hall.


Exposition Dates and Hours
Tuesday, September 16, 9:30 a.m. to 6:00 p.m.
Wednesday, September 17, 9:30 a.m. to 5:00 p.m.
Thursday, September 18, 9:30 a.m. to 2:00 p.m.

Special Attendee Reception
Tuesday, September 16, from 5:00 to 6:00 p.m.
EXPOSITION PARTICIPANTS
A-Lab Corporation
Avanced Ceramics Research
AEA Technology
American Iron & Steel Institute
American Stress Technologies
American Welding Society
Amray Inc.
Anter Corporation
Argonne National Lab
Astro Met Inc.
Balzers Tool Coating
Business Communication Company
Carl Zeiss
Chapman & Hall
Cincinnati Testing Laboratory Inc.
Clemex Technologies
Compus Marketing
Conam
Control Vision Inc.
Controlled Thermal Processing
Curtis Industries
Dickson Testing
Dynamic Systems Inc.
E. Fjeld Company
Edax International
Edison Welding Inst.
Elsevier Science Inc.
ESM Software
Griffin Testing Products Inc.
Hi-Scope Systems
Holometrix Inc.
Hudson Supply
IAMS
ILI Metals Infodisk Inc.
IMS
Inco Alloys International
Inco Ltd.
JEOL USA Inc.
John Wiley & Sons Inc./VCH
LAI
Lapmaster International
LaQue Corrosion Services
Leica Inc.
Mar-Test Inc.
Maxim Technologies Inc.
Media Cybernetics
Metal Powder Industries Federation
Metal Samples Company
Metcut Research Inc.
MHI Inc.
Micromeritics
MTS Systems
Multi-Arc
Nano Instruments Inc.
Nanotek Instruments Inc.
NASA Lewis Research
Naval Research Lab
NCEMT-Concurrent Technologies Corp.
NIST/Manufacturing Extension Partners
NSL Analytical Services
Oxford Instruments, Inc.
Philips Electronic Instruments
Polaroid Corporation
Princeton Gamma-Tech
Proto Manufacturing Ltd.
Quality Assurance Corp.
Quantachrome
Ricerca Inc.
RJ Lee Instruments Ltd.
SATEC Systems, Inc.
Shimadzu
Shiva Technology
Struers Division Radiometer America
Surface Science Western
TEC (Technology for Energy)
Tinius Olsen Testing Machine Company
TSL--Texsem Lab
TWB Inc.
UES Inc.
Unitron Inc.
USX Engineers & Consultants
Vital Image Technology
Westmoreland Mechanical Testing
Wyko Corporation
---