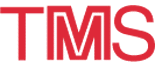 2001 TMS Annual Meeting: Exhibitor
---
February 11-15 · 2001 TMS ANNUAL MEETING · New Orleans, Louisiana

A Division of Asbury Carbons

ASBURY FLUXMASTER, a division of Asbury Carbons, is a vendor of quality consumable foundry materials. Our QS-9000 certified facility in Utah produces a wide range of aluminum fluxes, titanium/boron master alloys, degasser tablets, coatings, and injection fluxes. ASBURY FLUXMASTER also markets an entire line of aluminum master alloys produced by our partner, ALEASTUR.

ASBURY FLUXMASTER offers customers the benefits of a professional, knowledgeable staff, a proven line of products, custom packaging options, and quality customer service. Asbury Fluxmaster products are marketed in the United States through our network of Territory Managers and distributors. Fluxmaster also has international agents and sales in over 20 countries.

---