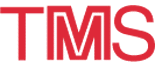 2001 TMS Annual Meeting: Exhibitors List
---
February 11–15 · 2001 TMS ANNUAL MEETING · New Orleans, Louisiana




During the week of February 11–15, 2001, at the 130th Annual Meeting & Exhibition of The Minerals, Metals & Materials Society (TMS), you can join more than 4,000 science and engineering professionals, representing more than 70 different countries, who will come together for the opportunity to add to their own store of knowledge by capitalizing on the expertise and experience of their colleagues. More than 200 sessions and 1,000 individual presentations are scheduled. Whether your technical interests lie in precious metal extraction, aluminum processing, high-temperature superconductors, or just about any other materials field or metallurgical discipline, you will find programming that addresses your most pressing needs.


Join 4,500 of your colleagues for a 250,000 square foot display of state-of-the-art processing, fabrication, and design technology presented by more than 120 international companies. Examine first-hand the products, processes, and services that can solve your most pressing needs and make a difference for your organization. View the exhibit hall floor plan.

Show Dates and Hours:
Monday, February 12, 2001--12:00 Noon-6:00 p.m.
Tuesday, February 13, 2001--9:30 a.m.-5:00 p.m.
Wednesday, February 14, 2001--9:30 a.m.-3:00 p.m.
Special Attractions during the 2000 show:
Grand Opening Reception
Enjoy complimentary hors'deuvres, music and cocktails while touring the show floor!
Monday, February 12, 2001--5:00 p.m.-6:00 p.m.

Complimentary Lunch for all meeting registrants
Redeem the ticket in your registration packet for lunch, hosted by the Exhibitors and TMS.
Tuesday, February 13, 2001--12:00 Noon-1:30 p.m.

Afternoon Snack Giveaway
Wednesday, February 14, 2001--12:15 p.m.-2:15 p.m.
It is now possible to obtain a copy of the entire PreShow Report as a PDF file and is readable using the free software Adobe Acrobat Reader.
---

2001 EXHIBITORS LIST

---

---

---

33 Metal Producing

ABB/Bomem, Inc.

ABB Industrie AG

Advanced Ceramics Research

Advanced Dynamics Corp. Ltd.

AGA AB

AISCO Systems, Inc.

Alan Worswick Ltd.

Alcan International Ltd.

Aleastur

Almeg Norway AS

ALTECH

Altek International Inc.

Alu-Cut International, Inc.

Aluminum Times

Aluminium Today

Alusuisse Alsea Ltd.

American Ceramic Society

Applied Research Laboratories

Asbury Fluxmaster

B&P Process Equipment & Systems

BDH Industries

Benchmark Structural Ceramics

Betz Dearborn

BHA Group, Inc.

Blasch Precision Ceramics

Bloom Engineering

BNZ Materials, Inc.

Borgestad Fabrikker AS

Brochot SA

Bruker AXS

Cambridge Scientific Abstracts

Canadian Overhead Handling

Capco Machinery Systems Inc.

Carl Zeiss

Chinese Society for Metals

Christy Refractories Co.

Clayburn Industries, Ltd.

CMS Energy

CSM Industries Inc.

Coating Management Technologies

Daniel Corus

Devonyx Technologies Inc.

Ebner Furnace

ECL

EDAX Inc./TSL

Edison Welding Institute

Eirich Machines, Inc.

EMP Technologies, Ltd.

Elkem Metals, Inc.

Elsevier

Erico Products, Inc.

FCB Aluminum

Fonderie Saguenay

Fosbel

Giesel Verlag

Gillespie & Powers

Glama Maschinenbau GmbH

GNA Industrial Furnaces, Inc.

Gouda Vuurvast N.V.

Granutech-Saturn Systems Corp.

Graphite Engineering & Sales

GVI

Hamilton Research & Technology

Hatch Kaiser

Hauck Manufacturing Company

Hencon B.V.

Heraeus Electro-Nite Co.

Hertwich Engineering

Hitco Carbon Composites, Inc.

Hodges Group, Inc.

Holcan Constructions Pty

Holton Conform

Hotwork Division of Fosbel, Inc.

Hydro Aluminum Hycast a.s.

Hysitron Inc.

Industrial Heating Magazine

IMS Ltd.

Inco Tech

Indium Corporation of America

Innovatherm Company

Integran Technologies

Intota Expert Knowledge Services

ITAM-Salem Furnaces

Jayne Industries, Inc.

Jervis B. Webb Co.

Johnston-Vermette

Junker Inc.

Kabert Industries, Inc.

KB Alloys, Inc.

KBM Affilips B.V.

Kempe International

KHD Humboldt Wedag AG

Kluwer Academic Publishers

Kumera Technology Center

Kvaerner Process Technology AG
LAR

Leco Corp

Light Metal Age

LMI Selcom

LOI, Inc.

Loma Machine Mfg. Co.

London & Scandinavian Metallurgical

LVE Verfahrenselektrnik GmbH

maerz-gautschi Industrial Furnaces

Mag-Chem, Inc.

Master Alloys Company

Matrix Refractories Division/Allied Mineral Products Inc.

McAllister Mills, Inc.

MDN

Mechatherm International Ltd.

Megaquip Industries Ltd.

Menardi

Metal Bulletin Monthly

Metallurg Aluminum

Metallurgical Society of CIM

Metaullics Systems Company LP

Mid-Mountain Materials

Mikropul

Milward Alloys, Inc.

Minteq International Inc.

Modern Metals Magazine

Moeller GmbH

Moltech

Molten Metal Equipment Innovations

Murlin Chemical, Inc.

Nalco Chemical Company

NASA--Marshall Space Flight Center

National Refractories & Minerals Corp.

NITON Corporation

NKM

Noell Crane & Service, Inc.

Nonferrous Metals Society of China

North American Manufacturing

Oak Ridge National Laboratory

OMBKE

Opsis, Inc.

Parker-Hannifin

Pechiney Group

Plibrico Company

Poco Graphite

Port of Longview

Precimeter, Inc.

Precision, Inc.

Procedair Industries/FCB Aluminum

Pryor Giggey Company

Pyrotek, Inc.

R&D Carbon Ltd.

Radiometrie Corp.

Resco Products, Inc.

Rex Roto Corporation

Rexroth Mecman Pneumatics

RHI Refractories America

Robin Industries

Saint Gobain Industrial Ceramics

Scharf Westfalia GmbH

SciDoc Inc.

Scientific Forming Technologies Corp.

Seco/Warwick

Selee Corporation

Sentech Corporation

Sermas Industrie

SETARAM

Silver Needle, Inc.

Skamol Inc.

Snow Filtration

La Société des Technologies de Aluminum S.T.A.S. Ltd.

Stein Atkinson Stordy Ltd.

Stellar Materials, Inc.

Sunhordland Mek. Verksted AS

33 Metal Producing

Techmo Car & Engineering

Thermal Ceramics & Thermic Refractories

Thermal Systems America

Thermcon Ovens B.V.

Thorpe Technologies, Inc.

Tyco Flow Control--Terry

UES Software Inc.

Universal Dynamics

U.S. Dept. of Energy/Office of Industrial Technologies

U.S. Filter

VAW Aluminum Technologie GmbH

Vesuvius

Vulcan Refractories Limited

Wagstaff, Inc.

Wienalco

YINGTELAI

Zircar Ceramics Inc.

Zircar Refractory Composites

ZYP Coatings Inc.
---
To obtain an Exhibit Prospectus or inquire about space reservation, please contact Cindy A. Wilson, TMS Marketing Coordinator; telephone (724) 776-9000, ext. 231; fax (724) 776-3770; e-mail wilson@tms.org.

---
The information on this page is maintained by Cindy Wilson (wilson@tms.org).