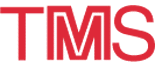 2001 TMS Annual Meeting: Exhibitor
---
February 11-15 · 2001 TMS ANNUAL MEETING · New Orleans, Louisiana
CADWELD® exothermic welding is a process for making large and complex welded electrical connections of aluminum-to-aluminum, copper-to-copper or copper-to-steel in which no external source of heat, such as electricity or gas, is required. The process produces a permanent molecular bond.

CADWELD connections...
assure that the current-carrying capacity of the connection is equal to or greater than the conductor's.
will not loosen in service.
electrical resistance will not increase with age.
require no maintenance.
can be made to any size or shape of conductors.
CADWELD connections can be made in a highly magnetic environment.

---