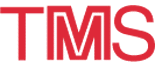 2001 TMS Annual Meeting: Exhibitor
---
February 11-15 · 2001 TMS ANNUAL MEETING · New Orleans, Louisiana
Furnace upgrading and modification-improving efficiency, melt rate and pollution control.
Sow preheating with our patented reverse flow melter.
Decoating with our patented mass flow recirculation system, all types of scrap.
Controlled variable scrap feed systems for conveying, submerging, and salt feed. Two styles of submerging devices.
Unique designs to resolve specific problems-eliminate water cooling, sealed charging, flat removable roofs, low profile doors and others.
In the recycling industry, systems include bale breaking, shredding, separation, decoating, vortex submerging, melting and holding furnaces including rotary furnaces, and transport ladles.

---