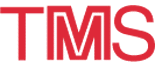 2001 TMS Annual Meeting: Exhibitor
---
February 11-15 · 2001 TMS ANNUAL MEETING · New Orleans, Louisiana
Vesuvius, a member of the Ceramics Division of the Cookson Group, has consistently been a world leader in the supply of refractory products and services for the Aluminum industry. The acquisition of Premier Refractories and Chemicals Inc has further strengthened our position in this regard.

We are able to provide products and services for Anode Baking Furnaces, Electrolytic Reduction Cells, Cast House melting and holding furnaces, and Metal Transfer applications through to Hot Mill Finishing requirements.

Vesuvius offers a complete line of dense and insulating firebrick for Anode Baking, as well as fired Carbon cathode and sidewall blocks, nitride and sialon bonded silicon carbide refractories, and Cold Ramming Paste for Reduction Cell needs.

A full range of castables, plastics, mortars and ceramic fibre products designed specifically for aluminum cast house applications are available. The Alugard® product line is a world leader in non-wetting castables, and can be cast, gunned, pumped or supplied as pre-cast shapes.

Products such as Alucel® reticulated ceramic filters: Zyarock® and Zyafoam™ pouring accessories for Casting Tables, as well as silicon carbide Immersion Heater Protection Tubes are available for a variety of Metal Transfer area requirements.

This complete product offering combined with design and engineering services, as well as construction and installation capabilities makes Vesuvius a global leader in supplying the total Aluminum industry.

---