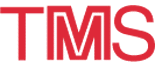 2001 TMS Annual Meeting: Exhibitor
---
February 11-15 · 2001 TMS ANNUAL MEETING · New Orleans, Louisiana
MINTEQ International Inc. is one of the world's largest producers of monolithic and specialty refractory materials for the steel, cement, glass, and non-ferrous metals industries. MINTEQ is a resource and technology based company with R&D facilities in five locations around the globe.

One of our newest product lines is the proprietary STARFLOW family of products. STARFLOW products were developed for high temperature maintenance and repair of melting and holding furnaces, troughs, ladles, and molten metal containing vessels. STARFLOW products provide the following benefits:
Furnished as a dry product that requires no addition of water
No mixing required n No dusting during application ( safe, environment friendly application )
Contains no pitch or other organic additives
Wets out and flows upon exposure to heat
Sets up within minutes
Eliminates furnace shut down
Eliminates costly downtime for maintenance and repair
Stop by our booth at the TMS in New Orleans for a STARFLOW demonstration!


---