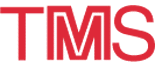 2001 TMS Annual Meeting: Exhibitor
---
February 11-15 · 2001 TMS ANNUAL MEETING · New Orleans, Louisiana
---

SCIDOC INC.

Booth #438

Strongsville, Ohio

---
SciDoc, Inc. provides assistance in the preparation of scientific documents such as journal articles, proposals, and technical presentations. SciDoc specializes in materials science and related fields. The services provided include:
Editing and proofreading
Writing or re-writing
Reviewing submission guidelines -Does your document meet all submission specifications?
Formatting - Consistent formatting of all tables, section headings, styles, etc.
Composing technical presentations in Microsoft PowerPoint
SciDoc, Inc. will save you time and increase the chances that your documents and presentations will be well received. Stop by the SciDoc booth for information on a special show discount.

---