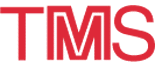 2001 TMS Annual Meeting: Exhibitor
---
February 11-15 · 2001 TMS ANNUAL MEETING · New Orleans, Louisiana
Kumera Technology Center serves aluminium, copper, and nickel smelters as well as metallurgical and mining industries generally, supplying main process equipment and process modernization services.

In addition to supply of equipment, Kumera Technology Center acts as an independent consultant and has prepared several project documentations, Feasibility Studies and Evaluation Reports within primary aluminium and alumina refining industries.

Kumera is also a major producer of mechanical power transmissions. The range of solutions covers practically all industrial applications. For aluminium smelters, the special application of Anode Jacking Systems is available for most of the pot technologies.

---