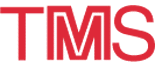 2001 TMS Annual Meeting: Exhibitor
---
February 11-15 · 2001 TMS ANNUAL MEETING · New Orleans, Louisiana
Master Alloys will be exhibiting its popular 100% canned hardeners. The canned hardener is 100% element in a pre-weighed, moisture-proof aluminum can. The element is not released into the aluminum until it is under the melt which negates any oxidation and results in very high recoveries.

This unique way to alloy aluminum has many advantages over other forms of hardeners. Besides being pre-weighed and moisture proof as stated above, the product is easy to store; reduces inventory; easy to use; fast dissolution; high recoveries; free from contamination; and guaranteed composition.

In addition to the can hardeners, Master Alloys supplies grain refiners and specialty alloys to the aluminum industry.

---