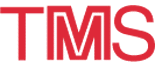 2001 TMS Annual Meeting: Exhibitor
---
February 11-15 · 2001 TMS ANNUAL MEETING · New Orleans, Louisiana
Jayne Industries manufactures the complete line of stainless steel V anchors, c clips, studs and threaded products for refractory and ceramic fiber linings. Jayne has provided products & services to the Aluminum, and other Non Ferrous and Ferrous Industries for over 30 years.

Hexmesh and accessories as well as Jayne large volume Refractory Pan & Paddle mixers are manufactured at our Stoney Creek, Ontario Canada facility. Jayne also supplies cast alloy castings and Fibercon stainless steel fibers for Refractories.

Visit our booth #834 to further discuss your anchor and hardware requirements.

---