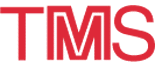 2001 TMS Annual Meeting: Exhibitor
---
February 11-15 · 2001 TMS ANNUAL MEETING · New Orleans, Louisiana
---

KVAERNER PROCESS TECHNOLOGY AG

Booth #435

Pratteln, Switzerland

www.kvaerner.com

---

Since Kvaerner acquired Buss CPS AG, it has since been known as Kvaerner Process Technology (Switzerland) AG or KPT and is still regarded as the world leader for carbon paste technology being the sole supplier to the aluminium Industry of the well known BUSS KNEADER for anode paste mixing.

Efficient processing of anode paste using mixing energy in the range of 7 to 10 kWh per ton of paste is vital for the economic production of anodes, being suitable for the high amperage smelting technology. The continuously operating Buss Kneader guarantees uniform paste quality for trouble free anode forming and baking and for smooth operation of the pot rooms.

Over 200 Buss Kneaders, with capacities up to 50 tonne/h in single units, are in operation world-wide. Our unsurpassed services include the supply of genuine spare parts from stock and revamping or upgrading of existing installations.

Additionally we are supplying complete paste plants and as well as our own technology and proprietary equipment for the continuous pitch melting and manufacture of aluminium fluoride.
---