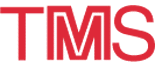 2001 TMS Annual Meeting: Exhibitor
---
February 11-15 · 2001 TMS ANNUAL MEETING · New Orleans, Louisiana
---

MECHATHERM INTERNATIONAL LTD.

Booth #637

Kingswinford, West Midlands, United Kingdom

www.mechatherm.co.uk

---
Mechatherm is a privately owned company, formed in 1973 and has developed a worldwide reputation specialising in furnaces for the aluminium, copper and brass industries. The product range can be split into 4 main categories:
Aluminium Foundry - melting and holding, rotary (static and tilting), scrap charging machines, vertical d.c. casting machines, turnkey foundry installations including all necessary ancillary items

Aluminium Extrusion - including log heaters and shears, ageing ovens, automatic ageing oven basket handling systems and die ovens

Aluminium Heat treatment - all air recirculated types of furnaces including homogenising, coil annealing, foil annealing, slab heating and solution heat treatment

Aluminium Dross reclamation - joint venture with Jesse Brough Metals, custom designed to suit the type of dross to be recycled. The full range of dross recycling plant includes refining and separation into useable products and remelting of aluminium metallics.

Copper and Brass Extrusion – gas fired billet heating furnaces both roller hearth and walking beam type.

---