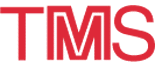 2001 TMS Annual Meeting: Exhibitor
---
February 11-15 · 2001 TMS ANNUAL MEETING · New Orleans, Louisiana

Christy has specialized since 1922 in customized refractory solutions for the non-ferrous industry and offers:
Custom crafted™ fabricated shapes
Ref-SiC™ (clay bonded) and NITRO-SiC™ (nitride bonded) Silicon Carbide shapes.
A full line of refractory and insulation products
Refractory contracting services
Christy Cast FS™ castable shapes for down spouts, stalk tubes, sucker tubes, launders, nozzles and filter bowls.
We are pleased to introduce a line of ceramic materials for use in high temperature, extreme wear and metal contact applications. Initial results with shot tubes have extended the use life ten-fold.

---