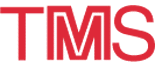 1998 TMS Annual Meeting: Airline Discount Information
---
February 15-19 · 1998 TMS ANNUAL MEETING · San Antonio, Texas
The 1998 TMS Annual Meeting & Exhibition will be held February 15-19, 1998 at the Henry B. Gonzalez Convention Center in San Antonio, Texas. The meeting will feature continuing education opportunitites, an exhibition, invited honorary lectures, student activities, social functions, and a technical program developed by TMS's technical divisions, the Electronic, Magnetic & Photonic Materials Division; Extraction & Processing Division; Light Metals Division; Materials Processing & Manufacturing Division; Structural Materials Division; TMS Education Committee; TMS Young Leaders Committee; Materials Science Critical Technologies Sector of ASM International.
American Airlines
...is the official carrier of the 1998 TMS Annual Meeting. In cooperation with The Minerals, Metals & Materials Society (TMS), American Airlines is offering special discounted fares for attendees traveling on American Airlines to the 1998 TMS Annual Meeting. This special offer allows for 5% off any applicable fare (all tariff rules apply as published), including first class or 10% off the full fare (Y26) provided reservations are made and tickets issued at least 7 days prior to your departure. An additional discount of 5% can be added to either option provided reservations and ticketing are obtained 60 days prior to departure.

These special fares are available only through the number listed below for American's Meeting Services Desk. Note that your travel on American Airlines will ultimately benefit TMS. These discounts only apply to attendees from the Continental United States, Hawaii, San Juan, St. Thomas, St. Croix, and Canada. Travel to and from San Antonio must be between February 12-22, 1998 to obtain a distount.

For Reservations and Information: Call American Airlines Toll Free 1-800-433-1790 from anywhere in the United States and Canada, 7 days a week, from 7:00 a.m. to 12:00 Midnight, Central Time. Ask for Star Number 10162

---
The information on this page is maintained by the TMS Customer Service Center (csc@tms.org).