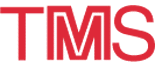 1998 TMS Annual Meeting: Exhibitor Prospectus
---
February 15-19 · 1998 TMS ANNUAL MEETING · San Antonio, Texas

The 1998 TMS Annual Meeting, sponsored by The Minerals, Metals & Materials Society (TMS), will be held February 15-19, 1998, in San Antonio, Texas, at the Henry B. Gonzalez Convention Center. The meeting will feature a major exhibition of product makers and service providers concerned with the metals and materials field.
Why Exhibit in San Antonio?
Come and join the leaders of international industry and science for 1998's most important exhibit of state-of-the-art processing, fabrication and design technology -- the 1998 TMS Annual Meeting Exhibition. Visit more than 250 exhibitor booths in the Gonzalez Convention Center for this large-scale exhibition featuring exhibitors from all sectors of the global materials science and engineering communities.

Over 4,000 attendees will walk the exhibition floor in search of:
Specified materials science and metallurgical products and services
Aluminum production technology and equipment
Automation innovations
Carbon technology and supplies
Casting equipment and systems
Combustion technology
Degassing equipment and service providers
Enginnering and consulting services
Furnaces
Filtration
Furnace instrumentation
Materials handling
Recycling equipment
Refractory and insulation products
Service contractors
Testing and analysis
Trade show exhibiting allows your customers to:
Interact with a salesperson face to face
View new products and applications
See exactly what the products look like
Evaluate how products work
See a demonstration of equipment that can't be taken on a sales call
Evaluate competitors' products
Find the manufacturer of products being sought
Further, the home of the Alamo, San Antonio, has become one of the top five tourism destinations in the United States. The ninth largest city in the country, San Antonio retains its sense of history and tradition while carefully blending in cosmopolitan progress. The city has always been a crossroads...and a meeting place...a perfect place to exhibit.
Already, a number of companies have signed on to participate in the 1998 TMS Annual Meeting as an exhibitor. Is one of your competitors on this list?
About the TMS Annual Meeting
The premier meeting sponsored each year by The Minerals, Metals & Materials Society (TMS) is the Annual Meeting. It features programming by all five of the Society's technical divisions including the Light Metals Division. During the Annual Meeting, numerous sessions by the TMS divisions update metallurgists, materials scientists, and engineers with the latest scientific and technical developments. Award presentations, tutorial lectures, short courses, receptions, invited luncheon speakers and other activities are also planned.

The growing success of the TMS Annual Meeting is illustrated by the positive statistics shown here:

For more information about the activities, special events, and technical programming planned for this year's meeting visit the 1998 TMS Annual Meeting Home Page.
Exhibition Mechanics
Booth Reservation
May be obtained by completing the 1998 Exhibitor Reservation Form and returning it to TMS. The floor plan at the convention center shows the planned lay-out of the exhibition. Shaded areas on the map indicate booths that have already been sold.

Space Charges
$17.50 per square foot throughout the exhibition. Standard booths are 10' X10'.

Show Dates and Hours
Monday, February 16: 3:00 p.m. - 7:00 p.m.
Tuesday, February 17: 10:00 a.m. - 5:30 p.m.
Wednesday, February 18: 10:00 a.m. - 3:00 p.m.


Included with Your Booth Rental

Detailed listing in the JOM PreShow Report and the Exhibition Show Directory. This material will also be presented on the World Wide Web on the 1998 TMS Annual Meeting Exhibition page.
Two complimentary, full-conference registrations (includes admission to the technical sessions and exhibit)
Security throughtout the show (includes set-up, show hours and dismantle)
Complimentary VIP exhibit passes
One complimentary new TMS membership per company
Eight-foot back drape and three-foot side drape
44 inch sign identifying your company name and booth number
Aisle carpet, maintenance, and cleaning
Comprehensive exhibitor's service manual
Exposition management services--including frequent "Exhibitor Updates" to keep you informed of the latest deadlines and opportunities
"The TMS Annual Meeting and Exhibition has become the premier international conference for our aluminum producers and suppliers. Every year we have the opportunity to present and share technical papers, new products and processes with our colleagues from around the world. These annual meetings continue to improve and grow in attendance, which is overall beneficial for our industry as we approach the 21st century."
--John V. Griffin, Manager
Norsk Hydro USA, Inc.
"The TMS Annual Meeting and Exhibition has provided us with an excellent opportunity to make our current customers and potential customers aware of the Bloom products applicable to their needs. The quality of the technical papers and exhibitors, attract the decision makers with whom we can establish quality relationships which lead to orders."
--Bloom Engineering Company, Inc.
Additional Features to Enhance Your Exhibiting Value

Hosted Grand Opening Reception
Hosted coffee and refreshment breaks in exhibit hall
Automated lead tracking and retrieval
Advertising discount for show issues of JOM and electronic advertising in TMS OnLine
First option on event-sponsorship opportunities to complement and enhance your exhibition participation
Show Promotion
TMS supports the 1998 exhibition with an aggressive marketing campaign that includes
Direct mail to targeted lists of industry leaders
Industry specific advertising via strong coverage in numerous trade publications
Public relations to generate press coverage
World WIde Webn coverage via TMS Online
For additional information, contact Cindy Wilson, TMS Marketing Coordinator, 184 Thorn Hill Road, Warrendale, PA 15086; Telephone (724) 776-9000, ext. 231; fax (724) 776-3770; e-mail wilson@tms.org.

---
The information on this page is maintained by Cindy Wilson (wilson@tms.org).