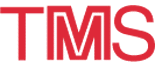 1998 TMS Annual Meeting: Sponsorship Opportunities
---
February 15-19 · 1998 TMS ANNUAL MEETING · San Antonio, Texas
The 1998 TMS Annual Meeting & Exhibition will be held February 15-19, 1998 at the Henry B. Gonzalez Convention Center in San Antonio, Texas. The meeting will feature continuing education opportunities, an exhibition, invited honorary lectures, student activities, social functions, and a technical program developed by TMS's technical divisions. Sponsorship reservations are being accepted for many of the functions planned for the meeting.
This year, TMS is offering a variety of sponsorship categories to fit a variety of marketing strategies. Sponsorship gives your organization an opportunity to
Significantly increase your exposure to more than 4,000 international attendees inside and outside the exhibit hall.
Inform colleagues and clients that you support the industry and project the positive image of your company.
Earn exhibitor priority points (1 point for each $500 of sponsorship).
Have first selection of TMS hospitality suites at headquarters properties for 1999.
Receive "spotlight" recognition in the 1998 TMS Annual Meeting program, in JOM, and on the World Wide Web pages devoted to the meeting.
Be recognized on special signage recognizing your organization as the event sponsor.
Receive sponsor ribbons for company personnel.
The following sponsorship opportunities are available:

AUTHORS COFFEE
Each morning, between 350 and 400 speakers gather with fellow technical program presenters for a continental breakfast to discuss the program schedule and to review their presentations. Take this opportunity to sponsor a morning's breakfast at the exclusive or partial sponsor levels. Your company's name will appear on signs, custom-printed napkins with your logo, and will be acknowledged in the conference program. Register early to select the day you wish to sponsor--Monday through Thursday.

COFFEE BREAKS
Located in the break areas outside technical session rooms, all meeting attendees will be offered coffee breaks. Three prime locations will be set. You can specify the location nearest the papers in your topic area. Breaks will be set each morning, Monday through Thursday. Sponsorship includes a sign on the break table and sponsor recognition in the meeting program.

TMS AWARDS BANQUET
Through this unique opportunity, you will reach the industry leaders attending the TMS banquet. More than 300 participants attend this premiere society event. Each guest will receive a banquet program acknowledging your company's sponsorship. In addition, signs will be posted and an announcement made during the program to recognize your organization as sponsor. Sponsorship will also be acknowledged in the conference program. Select banquet opening reception or the dessert buffet to place your name prominently before this group.

INFORMATION AND MESSAGE CENTER
Your sponsorship here will provide for a central message and information center in the main lobby of the San Antonio Convention Center. A large sign will identify you as the Message Center sponsor, and your sponsorship will be acknowledged in the conference program. This exclusive opportunity will be offered to only one sponsor.

E-MAIL CORRAL
All meeting attendees will have the opportunity to remotely access e-mail or log on to the Internet from the exhibition show floor. This E-Mail Corral will be heavily promoted in advance and registration confirmation mailings and at the show. The E-Mail Corral will be setup as a lounge area with multiple terminals, "framed" on four corners, with an entryway featuring your company's logo and sponsorship recognition. In addition, sponsorship will be acknowledged in the meeting program.

TECHNICAL SESSION LOCATOR BOARD
A "You Are Here" locator detailing technical session schedule and the convention center floorplan, this board will be referenced by all technical session participants. The board will be placed in a high-traffic area near registration, the exhibits, and the technical session rooms. It will feature your logo and company name indicating sponsorship of this board.

AT-MEETING PROGRAM: PARTIAL SPONSOR
The program is distributed at registration to all conference registrants. It is the primary reference source for schedule, program, and function information for all attendees. Credits for sponsorship of the program would appear on the cover, along with signage throughout registration.

1998 TMS FOUNDATION GOLF CLASSIC
For detail on this event, visit the TMS Foundation Golf Classic page. It is possible to sponsor individual holes (tee and green), food service for the event, and skill contests for the participants.
Beverage Cart: Located on the course, signage to be provided. Each cart sponsorship includes one complimentary individual tee time--one each on the front and back nine.
Continental Breakfast: Breakfast begins one hour prior to the shotgun start. Light breakfast fare will be offered to all tournament registrants. Sponsorship at this level includes one complimentary individual tee time.
Barbeque Buffet: Immediately following play, a western barbeque-style buffet is planned. Be the exclusive host of the tournament food function. Sponsors will be recognized by signage and/or your banner at the event. Your organization may distribute literature and may make a presentation or announcement during the award portion of the event. Sponsorship at this level includes a complimentary foursome. Partial sponsorship of the barbeque is also offered and includes two complimentary individual tee times.
Individual Holes: Signs with your company logo saying "This hole sponsored by..." will be posted at the tee and on the green. Hole sponsorship includes one complimentary individual tee time per sponsor.
Closest-to-the-Pin Contest: Front nine or back nine, includes one complimentary individual tee time.
Longest-Drive Contest: Front nine or back nine, includes one complimentary individual tee time
Hole-in-One Contest: This contest will feature the grand prize of $10,000 on one designated hole and supplemental travel awards on all other par three holes; includes two complimentary individual tee times.
Monetary Contribution Sponsoring the Overall Event: $500 level includes tee times for two individual golfers; $1,000 level includes tee times for a complimentary foursome.
ADDITIONAL SPONSORSHIP OPPORTUNITIES
Several other sponsorship opportunites are available where alternative forms of support are provided. This additional sponsorship opportunity is available in two forms: the donation of door and/or raffle prizes (the organization will be recognized in the program and at the awards banquet); the underwriting of a menu selection during the opening reception for the exhibition.



---
The information on this page is maintained by Cindy Wilson (wilson@tms.org).