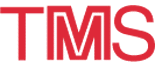 1999 TMS Annual Meeting: Exhibitor
---
February 28-March 4 · 1999 TMS ANNUAL MEETING · San Diego, California
3T--TRUE TEMPERATURE TECHNOLOGIES
Booth #1228     Misgav, Isreal
---
3T specializes in the remote measurement of target temperatures using unique pyrometers. These pyrometers can be used to measure the target surface temperatures of liquid and solid metals including aluminum and steel in extrusion, heat treatment, forging and rolling processes.

3T's unique pyrometers can measure target surface temperatures through smoke, dust and water vapor as well as measure the temperature of targets with variable emmisivity. The Company's technology offers greater accuracy resulting in increased productivity and improved quality that translates into cost savings.

In addition, 3T can meet the specialized needs of individual customers.

---