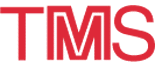 1999 TMS Annual Meeting: Exhibitor
---
February 28-March 4 · 1999 TMS ANNUAL MEETING · San Diego, California
CONSOLIDATED CERAMIC PRODUCTS, INC.
---

For 40 years, Consolidated Ceramic Products has been of service to the aluminum industries worldwide. An innovative manufacturer and marketer of ceramic based products, it maintains operations in Cincinnati, Ohio and Sheffield, England with distribution points around the world.

CCPI products and services for temperature measurement, chemical modification and physical transport of molten aluminum include:
Ceramic coated alloyed cast iron thermocouple protection tubes.
Mineral insulated and plasma beaded, ceramic insulated thermocouple elements.
ACCUTIP Dipping thermocouples.
Ceramic coated fluxing pipe, available with gas diffusing media.
Ceramic coated alloyed cast iron riser stalk tubes.
Vacuum formed fiber tapout cones with matching cast iron plugs.
Radiant and immersion heaters and replacement elements.
Thermal profiling services for aluminum melting, holding and heat treating furnaces.
High technology SIALON thermocouple protection tubes, level sensors, riser stalk tubes, heater tubes, and special shapes.
Aluminum Titanate riser stalk tubes, sprues and break rings.
Custom cast iron castings such as transfer troughs, air and water cooled pig molds, flow devices, and crust plungers.
Impellers, shafts, rotors, nozzles, baffles and pre-cast liners for degassing and filtration systems.
Consolidated Ceramic's team of sales, marketing and technical personnel provides unparalleled service to the aluminum industry; we invite you to come and meet us.

---