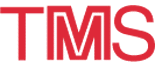 1999 TMS Annual Meeting: Exhibitor
---
February 28-March 4 · 1999 TMS ANNUAL MEETING · San Diego, California
GLAMA MASCHINENBAU GmbH
Booth #634     Gladbeck, Germany
---
GLAMA has designed and built heavy-duty Mobile Equipment for Aluminum pot rooms, cast houses and anode rodding shops throughout the world for 30 years. The following types of mobile equipment are available:
Anode Changing Vehicles
Hammer Crustbreakers
Tapping Trucks
Anode Pallet Haulers
Furnace Charging Machines
Furnace Tending Machines
Mobile Flash Gas Refiners
Ladle Charging Trucks
Molten Metal Carriers
Butt Cleaning Manipulators
Coil Lift Trucks
GLAMA's experience of many years of producing machines with a unique combination of advanced control and rugged, reliable construction is evident in the several hundred machines now in service. GLAMA equipment withstands the heat, dust, vibration and battering of heavy industry while delivering precise handling performance.

The GLAMA booth no. 634 & 636 at the 1999 TMS Annual Meeting & Exhibition will feature the latest developments: new Molten Metal Carrier for liquid Magnesium and a brand new generation of Anode Pallet Haulers (see photographs).

---