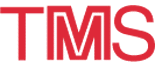 TMS Fall Meeting '99: Student Information
---
October 31-November 4, 1999 · TMS FALL MEETING '99 · Cincinnati, Ohio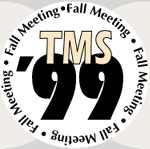 COMPLIMENTARY STUDENT MEMBER REGISTRATION
Full-time students who register for the conference will pay a reduced conference fee. Student members of TMS receive free registration. Full-time students who are not currently members of TMS will pay $25 to attend all 1999 TMS Fall Meeting technical sessions and lectures. A valid student identification card for all students and a TMS or Joint ASM/TMS student membership number for members is required to qualify for the discounted rates. In addition, non-member students who register for the conference will receive one-year complimentary student membership at no extra cost.

Focusing on physical metallurgy and materials, the 1999 TMS Fall Meeting will feature a wide array of technical symposia sponsored by The Minerals, Metals & Materials Society (TMS). A poster session is also planned. As a greater convenience for attendees, the meeting is typically colocated with ASM International's Materials Solutions Conference. Approximately 100 technical sessions will focus on key information and successful strategies to give attendees insight into the research, development, and application of new materials processes, analysis techniques, and equipment advances.

The TMS Fall Meeting '99 will take place in Cincinnati, Ohio, at the Omni Netherland Plaza Hotel, which will be the TMS headquarters for the event. All technical sessions and conference registration will be located here.
JOINT ASM/TMS STUDENT NIGHT
Student Night activities are scheduled for Sunday, October 31, all students attending the 1999 TMS Fall Meeting are encouraged to attend and admission is free. This program is annually organized and jointly sponsored by ASM and TMS. Students, faculty and interested members should note these opportunities.
STUDENT CAREER FORUM—MATERIALS SCIENCE & ENGINEERING
Date: Sunday, October 31
Time: 5:00 p.m.–6:30 p.m.
Where: Hyatt Regency Cincinnati

Students will have the opportunity to discuss career opportunities that involve materials science and engineering, with engineering and human resources representatives from related industries. Hors d'oeuvres will be served, and this will be a wonderful opportunity to make industry connections and learn about new career options. Select ASM and TMS scholarships will be announced and recognized.
JOINT ASM/TMS STUDENT CHAPTER LEADERSHIP RECEPTION
Date: Sunday, October 31
Time: 7:30 p.m.–8:00 p.m.
Where: Hyatt Regency Cincinnati

This is an invitation-only event for student chapter leaders and faculty advisors to meet and share ideas. Chapter chairs are encouraged to attend and share their plans for the current year. Use this opportunity to find common challenges and new solutions when managing a student chapter.
1999 STUDENT/FACULTY MIXER
Date: Sunday, October 31
Time: 8:00 p.m.–10:00 p.m.
Where: Hyatt Regency Cincinnati

The traditional mixer for students and faculty will be held on Sunday evening. Everyone is encouraged to display school pride by wearing their school colors. Dress is informal, plan to dance and have a great time, and snacks and beverages will be provided. Attendees will participate in a raffle for fantastic door prizes. Students, faculty, members of the Board, and executive officers are all invited to attend.
STUDENT RESUME BOOK
If you are interested in having your resume included in the Joint ASM/TMS Student Resume Book, bring a copy with you to the Career Forum, Sunday October 31, or submit a copy to the TMS Membership Display during the conference. The Joint ASM/TMS Student Resume Book will be available for distribution to interested companies by the end of November.
SESSION MONITORS
Students will have the opportunity to partially defray their conference expenses by serving as session monitors. Monitors are responsible for assisting the session chair, recording session attendance and assisting with audio/visual equipment. All monitors must report to the Authors' Coffee each morning from 7:15 a.m.–8:15 a.m., on the days which they are scheduled to monitor sessions. Monitors' positions are limited and will be assigned on a first-come basis. The deadline for submitting monitor work forms is September 27, 1999. To obtain work forms and schedule, contact Peggy Weiss, TMS, 724-776-9042, ext. 227; fax (724) 776-3770; or e-mail weissp@tms.org.
---
Questions? Contact the TMS Customer Service Center, 184 Thorn Hill Road, Warrendale, PA 15086-7528; telephone 1-800-759-4867 (USA) or (724) 776-9000, ext. 270; fax (724) 776-3770; e-mail csc@tms.org