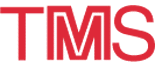 TMS Fall Meeting '99: Young Leaders Business Meeting
---
October 31-November 4, 1999 · TMS FALL MEETING '99 · Cincinnati, Ohio

Focusing on physical metallurgy and materials, the TMS Fall Meeting '99 will feature a wide array of technical symposia sponsored by The Minerals, Metals & Materials Society (TMS). A poster session is also planned. As a greater convenience for attendees, the meeting is typically colocated with ASM International's Materials Solutions Conference. Approximately 100 technical sessions will focus on key information and successful strategies to give attendees insight into the research, development, and application of new materials processes, analysis techniques, and equipment advances.

The TMS Fall Meeting '99 will take place in Cincinnati, Ohio, at the Omni Netherland Plaza Hotel, which will be the TMS headquarters for the event.
ATTENTION: YOUNG PROFESSIONALS
Event: Young Leaders Business Meeting
Date: Sunday, October 31, 1999
Time: 4:00 p.m.–5:30 p.m.
Room: (Yet to be determined)

All TMS Young Professionals, ages 35 and under, should plan to attend the Young Leaders Business Meeting and become part of this pro-active TMS Young Leaders group.

A reception will immediately follow the meeting from 5:30 p.m.–6:30 p.m. Join your colleagues after the reception for dinner at Mike Fink's Restaurant. This local restaurant features riverboat dining with a spectacular view of the city. Shuttle transportation will be available from all hotels. The deadline to make your reservations to attend is October 15.

Please note that TMS does not sponsor this event, therefore, you will be responsible for your own dinner and transportation charges. For more information, contact Tara Braden, Membership Coordinator, 184 Thorn Hill Road, Warrendale, PA 15086; telephone (724) 776-9000, ext. 259; fax (724) 776-3770; e-mail tbraden@tms.org.
---
Questions? Contact the TMS Customer Service Center, 184 Thorn Hill Road, Warrendale, PA 15086-7528; telephone 1-800-759-4867 (USA) or (724) 776-9000, ext. 270; fax (724) 776-3770; e-mail csc@tms.org