DRIP XIII: Travel Information
The DRIP XIII conference will be held September 13-17, 2009, at the Oglebay Resort & Conference Center in Wheeling, West Virginia. Oglebay offers 1,700 acres of year-round recreational opportunities and excellent overnight accommodations while retaining its picturesque natural beauty.
Driving Directions and Information
Oglebay is located in Wheeling, West Virginia on Route 88 North, just 4 miles off I-70 at exit 2A. Download printable maps and directions.
1 hour from Pittsburgh
via I-79 S to I-70 W to Wheeling Exit 2A
2 1/2 hours from Columbus
via I-70 E to Wheeling Exit 2A
3 hours from Cleveland
via I-77 S to I-70 E to Wheeling Exit 2A
Pittsburgh Airport Shuttle Service
Airport shuttle service is available to transport attendees between Pittsburgh International Airport and Oglebay Resort and Conference Center.
Departing Shuttles
Watch for signs in the Baggage pick-up area directing you to the shuttles. Service is available on Sunday, September 13, 2009, at 1 p.m., 3 p.m., 5 p.m. and 7 p.m.
Returning shuttles
Shuttles will depart Oglebay for the airport on Thursday, September 17, 2009, at 1 p.m. and 3 p.m.
Limousine service
24-hour transportation service between Pittsburgh International Airport and Oglebay Resort is provided by Airport Limousine. Attendees should secure reservations either by phone at (304) 232-1175 for a cost of $74 for one-way service, or via the Internet at: http://www.wheelinglimo.com/ for a one-way fee of $70. To make an Internet reservation, please click on the Oglebay Shuttle Request Form and select DRIP 2009 on the School/Institute list.
Car rental
Pittsburgh International Airport is served by all major car rental companies. The counters are located in the Baggage pick-up area.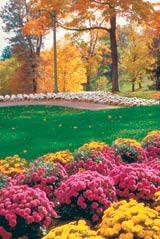 Receive a free copy of the West Virginia Travel Guide and learn more about the local area and attractions. From unmatched outdoor recreation to world-class resorts, breathtaking scenery and a variety of cultural and historic attractions, find out everything you need to know to plan your trip to West Virginia.
Outdoor Enthusiast
Outdoor lovers call West Virginia the outdoor recreation capital of the East. That's not an exaggeration, considering the Mountain State's world-famous whitewater rivers, challenging mountain bike terrain, extensive trail system, great skiing, fantastic hunting and fishing, massive state and national parklands and the most extensive wilderness areas in this part of the country.
Culture and History
The caretakers of West Virginia's rich history bring the past to life for visitors through Civil War re-enactments, historic dramas and theater productions, the preservation of historic sites, and the careful retelling of events that have affected the state and the nation.
FOR MORE INFORMATION . . .
For more information about this conference, please submit a meeting information request form or contact:
TMS Meeting Services
184 Thorn Hill Road
Warrendale , PA 15086-7514 USA
Telephone (724) 776-9000, ext. 243
(800) 759-4TMS
Fax: (724) 776-3770
E-mail: mtgserv@tms.org