Feature: Materials World
Personification: The Materials Science and Engineering of Humanoid Robots
Maureen Byko
---
INTRODUCTION
Contrary to the musings of pulp science fiction writers, robots pose little threat of taking over the world anytime soon. They can barely walk, are incapable of independent thought, and run out of energy quickly.

In laboratories around the world, though, researchers are working at solving those problems and others, opening the door for development of a robot that can mimic humans. Progress is evident in several arenas. For instance, within the last year robots have begun to populate nursing homes, where doctors use them as a "remote presence" to monitor patients. In the last two years, a major international robot competition added a humanoid category, with the ultimate goal of a robot-human competition. One company has developed a humanoid that it suggests could provide friendly conversation based on its owner's interests. Maybe world domination is not in the future of humanoid robots. But making the world a more interesting place just might be.
SAY HELLO TO ASIMO
It rang the opening bell on the New York Stock Exchange. It greeted visitors to Honda Motor Company's headquarters in Japan. It shook hands with the prime minister of Thailand. This well-traveled mass of magnesium is a humanoid robot known as ASIMO, an acronym for Advanced Step in Innovative Mobility (Figure 1). As hinted by its name, the robot's claim to fame is its ability to walk and climb stairs. ASIMO, billed by Honda as the world's most advanced humanoid robot, is the result of 17 years and untold millions of dollars in R&D.

With a body of lightweight magnesium coated with a plastic resin, ASIMO was an exercise in mobility research, said Jeffrey Smith, leader of the ASIMO project in North America. The intent, Smith said, was to design a robot that was mobile, able to maneuver in household environments, friendly to look at—cute, even—and tall enough to look into the face of a seated human to receive voice and visual messages, such as "open the door" or "turn off the light." "On the most basic level, Honda built ASIMO to help people," Smith said.

The work began in 1986, with a two-legged robot that walked very slowly and fell frequently. Subsequent iterations were based on exhaustive research into the mechanics of walking of humans and animals. The mobility of the current design benefits from what is called "prediction motion control," which allows the robot to predict its next move and shift its center of gravity accordingly. Earlier versions walked and turned according to combinations of stored walking patterns rather than making real-time adjustments. In addition, ASIMO has 26 degrees of freedom, including movable knees, hips, and feet, all of which help the robot maintain control while walking.

One day, the company envisions the robot helping the elderly or sick, but the cost will have to come down significantly first. Not counting the R&D investment, ASIMO cost about $1 million to build, Smith said, and inexpensive mass production is still far enough in the future that no one from Honda will speculate publicly when that might occur. Power is another obstacle to practical use. The robot is powered by a 40 V nickel metal hydride battery, and can operate approximately 30 minutes before the battery must be recharged. Although lithium-ion batteries might offer improved performance, "the future of ASIMO is in fuel cell power," Smith said. "That's a long way off."

The robot, while equipped with voice and face recognition technology, is controlled by wireless computers and was not designed to be an artificial intelligence showcase, Smith said. "Its real intelligence is in the advanced technology with which it is equipped," he said. Still, when the robot, currently on tour in the United States, enters an auditorium and walks smoothly to the edge of the stage, surveys the crowd, and waves both hands with a cheerful "Hello everyone," there is an appearance of personality. That friendly, human-like appearance, Honda officials believe, will make the robot more acceptable for service to humans.
ARTIFICIAL MUSCLES MAKE THEIR MOVE
Even the most human of machines still move in a mechanical way, accompanied by the noise of a motor. The answer to quiet, human-like movement could lie in electroactive polymers used as artificial muscles. Electroactive polymers (EAPs) are plastics that move in response to electricity. They are the reason robotic fish swam in a fluid, natural way when they were displayed by EAMEX, of Japan, at the International Society for Optical Engineering 2003 EAP Actuators & Devices (EAPAD) Conference. And they are the reason the world may be treated to an arm-wrestling match that pits a robotic arm against a human in 2005.

Ron Pelrine, program director of the advanced transducer program at SRI International, a leader in EAP development, described EAP as a rubbery polymer made in sheets. Electrodes, which must be able to stretch with the material, are placed on each side of the sheet. A voltage is applied across the electrodes, causing the electrostatic forces from the plus charges and minus charges to squeeze the polymer, causing it to stretch out, creating forces that Pelrine called "pretty substantial." With these materials beginning to move out of the realm of experimental and showing promise for practical applications, interest is high from many areas, including robotics, Pelrine said. " There's a lot of interest these days in more life-like robots, and not necessarily just from an aesthetic point of view, although the entertainment industry is certainly a big one for robotics, but also in terms of the ability to move over obstacles, the ability to move quickly."

This kind of progress is exactly what Yoseph Bar-Cohen was hoping for when he proposed the arm-wrestling contest in 1999. Bar-Cohen, a physicist and senior research scientist at NASA's Jet Propulsion Laboratory in Pasadena, California, and organizer of the first EAPAD conference in 1999, decided that competition is often a successful means of stimulating R&D (see sidebar on humanoid competition). So he posed the challenge that requires the robotic arm to be EAP-actuated. The response came much quicker than expected.

"I thought 20, 30 years from now someone would do it," Bar-Cohen said. "It would probably be when I was retired and I would watch from the side to see how things develop. I didn't realize that five years later someone would come and say 'I can do it.'"

That "someone" is SRI. The only obstacle to SRI's participation is funding, said Philip von Guggenberg, director of business development.

"Technically, we can meet the challenge," he said. And by 2005, not the 20 years or more Bar-Cohen expected.

Because the company is a non-profit organization, it cannot cover the cost of participating the contest on its own. Von Guggenberg is hoping the contest will award a monetary prize that will compensate for the cost of participating. Bar-Cohen is now considering how to find sponsorship of such a prize.
THE DOCTOR IS "IN"
---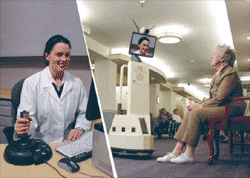 ---
Figure 2. A doctor consults with her patient using a "Companion" robot. Photo courtesy of InTouch Health.
---
It's low-tech, with no legs that climb or artificial muscles for smooth performance, but one robot is proving successful as a substitute for humans. InTouch Health, based in California, developed robots that can be controlled from remote locations through a broadband and wireless network. Instead of a head, the robot's body is topped with a video screen onto which the controller's face is projected (Figure 2). The robots are controlled mainly by doctors who can see their patients even when they are not in the same building. Using joysticks, the doctor can move the robot around the patient. Using the zoom lens, the doctor can visually examine the patient. Using auditory transmissions, the doctor can have a natural conversation with the patient. The patient, looking at the computer monitor, can see the doctor speaking.

"What we're all about is allowing someone with some medical expertise, who can be located anywhere in the world, to extend their presence to any other location where their knowledge base is valuable," said Tim Wright, vice president of marketing for InTouch. InTouch was established in 2002 to develop a robot to fill the labor gap in the health-care industry. Statistics prove a current shortage of health-care workers will only grow greater with the aging of the baby-boom generation (birth dates 1943–1960 in the United States). According to a May report by the U.S. Department of Health and Human Services, the demand for direct-care workers will grow to 5.7–6.6 million workers in 2050, an increase of 200 percent and 242 percent, respectively, over the current 3.8–4.6 million demand. As of October, the InTouch robotic doctors were in use in four United States nursing homes and two hospitals. The design may not have ASIMO's advanced technology, but neither does it have that robot's price tag. The medical robots, called "Companion" devices, lease for $3,000 a month.

The robots, made of aluminum, are slightly short by human standards, at 1.6 meters tall, and a little overweight, at 98 kg. They have no arms or feet, but move on three urethane balls that allow them to roll easily in all directions. The robots have sensors that alert them to the presence of people and objects in their vicinity. Wright said the company's technology teams are working on arms now, so the robot could be capable of such tasks as pushing wheelchairs or opening elevator doors.

Research is continuing, Wright said, not only into arm development, but also into humanizing the shape. The robot is now little more than a vertical, rectangular box floating on a wide base. The next versions will likely have more of a waist and shoulders, a change based on customer comments that they would be more comfortable with a human-like machine. "We're looking for a look that is professional and also friendly,"Wright said.
THEY GO IN PEACE
---

---

---

Figure 3. NASA's Robonaut could keep human astronauts out of harm's way. Photo courtesy of NASA.

---

Figure 4. Robonaut working with astronaut Nancy Currie to build an aluminum truss. Photo courtesy of NASA.

---

---
NASA, too, is exploring the benefits of supplementing its workforce with robots. The Robonaut, a humanoid robot operated with a telepresence control system, is considered a workable candidate for space station repairs (Figure 3). The robot is being developed by the Robot Systems Technology Branch at the Johnson Space Center in cooperation with the Defense Advanced Research Projects Agency. It consists of a head, a torso, two arms, and two five-fingered hands designed with human-like dexterity. Robonauts, NASA reports, could work alongside humans or in environments considered too risky for people.

To ensure that the robot can withstand the stresses of space, its endoskeleton is made up of gold-anodized aluminum alloy parts. The forearms and palms are cast, due to their complexity, and then machined to specified tolerances. The torso of the robot contains the system's central processing unit, a large electronic junction board, distributed power converters, and numerous wires and connectors. Those are protected by the endoskeleton's rigid carbon fiber breastplate and backpack. Two types of helmets are being tested: one of a resin that is hardened in a sterolithography process (as shown in Figure 3) and the other made of sintered glass fibers.

The Robonaut design was tested this summer in working with human teams to assemble an aluminum truss structure (Figure 4). Astronaut Nancy Currie, who participated in the test, sees potential benefits to working with Robonauts on the International Space Station. "On the station, you could send a Robonaut or two out early to set up the work site, or leave them out late to clean up," she said. Normally two astronauts would be doing those tasks. The Robonauts are expected to be ready for work on the space station in three or four years, according to test conductor Robert Ambrose.
AN AGREEABLE COMPANION
Robots have been working for humans for years, in one form or another. One day, their purpose might simply be to play with humans, or at least entertain them.

In "Robbie," a 1940 short story by science-fiction writer Isaac Asimov, a young girl named Gloria has a robot, Robbie, programmed to be her caretaker. Gloria's love for that machine concerns her parents. Their daughter does not understand that this machine is just a mechanized playmate, and that blending of machine and human emotion is unhealthy, her parents believe.


The story was set in 1998. In October 2003, Sony Corporation unveiled QRIO (Figure 5), a potential playmate for modern-day Glorias. This humanoid creation is described on the Sony web site (sony.net/SonyInfo/QRIO/story/ index_nf.html) as "the product of cutting edge artificial intelligence and dynamics technology." Satoshi Amagai, president of the Sony Entertainment Robot Company, even suggested in an interview that the mission of QRIO is "to bring people emotional value." "We want to create something that's fun to be with, can be of help at times, even something that one can talk to when one is lonely," Amagai said.

Like ASIMO, the robot is highly mobile. Made of magnesium, it is shorter than ASIMO (half a meter), weighs less (7 kg), and has 36 degrees of freedom. QRIO is capable of fluid movement due to Honda's Intelligent Servo Actuator, an integrated actuating system that controls the robot's joints and limbs, allowing instant reactions to outside influences such as uneven walking surfaces or a push on the robot's body. It is equipped with two cameras in its head and can recognize faces. Likewise, the robot has seven built-in microphones for voice recognition. Autonomous behavior control architecture allows QRIO to react to its environment as it moves, and Sony claims, to display emotion based on external influences.

At MIT, a professor has made it her mission to instill the illusion of emotion in robots. Cynthia Breazeal, with a doctorate degree in electrical engineering, is director of MIT's Media Lab Robotic Life Group. As her doctoral thesis, she developed a robotic head she called Kismet (recently retired to the MIT robot museum) that was capable of expressing a wide range of emotions such as surprise, fear, and pleasure. As shown on the cover of this issue, the robot had lips, eyes, eyebrows, ears, and a neck, all of which were programmed to move in certain ways to express emotion during human interaction. In addition, Kismet could speak, but only gibberish, with appropriate inflections."We can actually have the robot sound angry when it's angry, sound sad when it's sad, and so forth," Breazeal said.

Breazeal has lately turned her attention to high-level toy making. She is working with the Hollywood special effects company Stan Winston Studio on a furry creature called Leonardo. Leonardo, like Kismet, is able to express emotion, but it also has arms, a torso, legs, and skin. The face is designed with 32 degrees of freedom to allow for minute, lifelike changes of expression. The skin is designed with embedded sensors that allow it to respond to touch. Pet its ear and the ear twitches. Grab its hand and it pulls back.

The sensitive skin, the emotional eyes, the artificial concern all might one day mimic humans too well. Bar-Cohen, who in May co-authored a book with Breazeal called Biologically Inspired Intelligent Robots, said one area of concern is how people would react to a lifelike robot.

"When you look at some of the movies and what the robots would do . . . we are very uncomfortable because they could beat us," Bar-Cohen said. "Computers are already beating us in capability now; imagine if they all look like us."
FAVORITE FICTIONAL ROBOTS OF THE ROBOTMAN
---

---

---

Figure 6. Robotman Fred Barton and three of his re-creations: from left, B-9 from Lost in Space, Gort from The Day the Earth Stood Still, and Robby, from Forbidden Planet. Photo courtesy of Fred Barton Productions.

---

Figure 7. Another humanoid favorite, C-3PO from Star Wars. ©Lucasfilm & TM. All rights reserved.

---

---
Fred Barton, also known as the Robotman, makes his living making robots (Figure 6). He built his first robot in high school—a full-sized replica of Robby, the robot from the classic 1956 science fiction movie Forbidden Planet. He went to college and attempted more conventional careers, but always dabbled in robots. Now, they are his livelihood, as he builds replicas of popular robots that sell for anywhere from $5,000 to $40,000. Who better, then, to help JOM compile a list of noteworthy robots of the large and small screen?