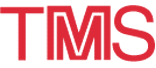 EPD Student Mentor Program
---
February 11–15 · 2001 TMS ANNUAL MEETING · New Orleans, Louisiana
During the week of February 11–15, 2001, at the 130th Annual Meeting & Exhibition of The Minerals, Metals & Materials
Society (TMS), you can join more than 4,000 science and engineering professionals, representing more than 70 different countries, who will come together for the opportunity to add to their own store of knowledge by capitalizing on the expertise and experience of their colleagues. More than 200 sessions and 1,000 individual presentations are scheduled. Whether your technical interests lie in precious metal extraction, aluminum processing, high-temperature superconductors, or just about any other materials field or metallurgical discipline, you will find programming that addresses your most pressing needs.
This year's meeting will feature programming by the Electronic, Magnetic & Photonic Materials Division; Extraction & Processing Division; Light Metals Division; Materials Processing & Manufacturing Division; Structural Materials Division; TMS Education Committee; TMS Young Leaders Committee; and Materials Science Critical Technologies Sector of ASM International.
Who Can Participate?
Mentors
Experienced (active and inactive) EPD members of TMS are encouraged to participate in the EPD Student Mentor Program to help undergraduate students learn more about EPD and TMS and help them begin network-ing with other members. Mentors must be or have been involved in EPD at least at the committee level, have significant industrial/research experience but not exclusive of academic representatives, be suited for mentoring, have good people (student) skills, be interested and willing to promote EPD and TMS positively, and be at the 2001 TMS Annual Meeting.
Students
Undergraduate students with a strong interest in Extraction and Processing are encouraged to apply for the EPD Student Mentor Program to learn more about EPD and TMS and to begin networking with their members. To qualify, students must have passed at least five departmental classes, at least one must be extraction/process oriented, be matriculated in an appropriate degreed program, answer a few questions to show they have interest and a willingness to become active in EPD, and be in attendance at the 2001 TMS Annual Meeting.
Pairing?
A special committee will make every attempt to pair students with EPD mentors with similar interests and background. In the cases where there are not enough mentors, preference will be given to higher-level students. After being paired before the meeting, students and mentors will make contact by phone or e-mail and make arrangements to meet throughout the conference. Mentors will show students how EPD and TMS work, what value membership has including finding permanent jobs or temporary internship/summer positions, and what to expect from the "real world" after graduation.
Applying?
To apply, mentors and students simply need to complete this form on-line. Mentors and students may also print the form and either fax or mail it to Tara Oprosky who can also answer questions by phone and e-mail. Information on this form will be used solely to facilitate the EPD Student Mentor Program. Mentors will be notified by e-mail and will be asked to complete a short survey after the meeting. Some funding will be made available to help meet costs for taking students to the EPD Luncheon; funding may be available for other events pending the number of participants.
On-Line Mentor Form
On-Line Student Form


For more information, please contact:
Tara Oprosky
Membership Coordinator
TMS
184 Thorn Hill Road
Warrendale, PA 15086
Telephone: (724) 776-9000
Fax: (724) 776-3770
Email: toprosky@tms.org
---
The information on this page is maintained by the TMS Meetings Department (mtgserv@tms.org).