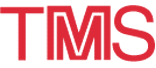 About the 1997 TMS Annual Meeting: General Information
---
February 9-13 · 1997 TMS ANNUAL MEETING · Orlando, Florida
LOCATION
Sponsored by The Minerals, Metals & Materials Society (TMS), the 1997 TMS Annual Meeting will take place in Orlando, Florida. The Omni Rosen and Clarion Plaza Hotel will be co-headquarters for the event. Technical sessions, registration, and the exhibition will take place at the Orange County Convention Center.
REGISTRATION
On-site registration will be held in the Orange County Convention Center during the following hours:
Sunday, February 9, 2:00 p.m.-7:00 p.m.
Monday, February 10, 7:00 a.m.-7:00 p.m.
Tuesday, February 11, 7:00 a.m.-5:00 p.m.
Wednesday, February 12, 7:00 a.m.-5:00 p.m.
Thursday, February 13, 7:00 a.m.-1:00 p.m.
HOUSING ACCOMMODATIONS
TMS coheadquarters hotels for the meeting will be the Omni Rosen and the Clarion Plaza Hotel. The deadline to book a room through the TMS Housing Bureau has passed.
ATTENTION: Nonmembers and Nonmember Authors
Don't forget to take advantage of your complimentary year of TMS membership, which is offered in conjunction with the 126th TMS Annual Meeting!
On-site registrants: Complete the special combination registration form/membership application and proceed directly to the nonmember-only registration area, where your form will be processed quickly. Receive your new member sticker/packet on the spot; then stop by the TMS Membership Desk to enter our grand prize drawing.
Nonmember Students: Two important steps to follow to realize the most cost-effective way to attend the 1997 TMS Annual Meeting are:
You must register in advance
You must submit a completed ASM/TMS Joint Student Member Application and your first year's dues fees of $19.50 (North American students only)
Students outside of North America may submit a TMS Student Member Application and pay $15.00 for dues, along with your registration form. You may then register at the reduced TMS student member fee of $30.00.

Additionally, you will be able to purchase any TMS publication at the student member price. Check out the many titles and great prices being offered to students in the TMS InPrint calalog. Remember, you must preregister for the meeting to take advantage of this special offer.

Non-member students who register on-site will pay a $60.00 registration fee.
POLICIES
Registration: All attendees and authors must register for the meeting. Non-member authors may register at the special non-member author rate. Badges are required for admission to all technical sessions, the exhibition, and social functions.
Refunds: Written requests must be sent to TMS Customer Service, 184 Thorn Hill Road, Warrendale, PA 15086-7514; fax: (412)776-3770; e-mail: csc@tms.org. No refunds will be issued after January 13, 1997. A $25 processing fee will be charged on all cancellations.
Accessibility for the Disabled: TMS strongly supports the federal Americans with Disabilities Act (ADA) which prohibits discrimination against, and promotes public accessibility for those with disabilities. In support of and compliance with this Act, we ask that those requiring specific equipment or services as an attendee of the 1997 TMS Annual Meeting contact the TMS Meeting Services Department at karl@tms.org and advise of any specific requirements in advance.
Audio/Video Recording: The Minerals, Metals & Materials Society (TMS) reserves the rights to any audio and video reproduction of all presentations at every TMS-sponsored meeting. Recording of sessions (audio, video, still-photography, etc.) intended for personal use, distribution, publication, or copyright without the express written consent of TMS and the individual authors is strictly prohibited. Contact the TMS Technical Programming Department at weissp@tms.org to obtain a copy of the waiver release form.
GUEST HOSPITALITY
A special guest hospitality area will be hosted each day of the meeting from 7:00-10:00 a.m. at the Orange County Convention Center in Orlando. TMS will sponsor a continental breakfast for the convenience of spouses and accompanying persons of meeting attendees. The Guest Hospitality Room will be a good place to meet, socialize, and gather for tour departure. In addition, local highlights, shopping information, transportation schedules, and dining details will be available.
To "register" an accompanying person, please provide your guest's name on your meeting Registration Form. They will receive a complimentary badge identifying them as a Conference Guest, which will allow admission to the TMS Exhibit and Reception and the Guest Hospitality Room. Note: The Conference Guest badge is intended for spouses and accompanying persons of registered attendees and for identification only. It does not permit access to technical presentations.
TECHNICAL SESSIONS
Technical sessions will begin on Monday morning, February 10, 1997, and end on Thursday, February 13, 1997. Technical sessions will be held at the Orange County Convention Center and the Clarion Plaza Hotel. Abstracts were printed in the November 1996 issue of JOM and will also be available here.
POSTER SESSION
A poster session will be held in conjunction with the 1997 TMS Annual Meeting. Presentations will be displayed on 4 x 8 foot poster boards; no formal presentation is required. The Poster Session will begin Monday, February 10 and remain in place through Wednesday, February 12, located at the Orange County Convention Center.
PUBLICATIONS SALES
The TMS Publications Sales Area in the lobby of the convention center will display more than 150 recently published volumes on all areas of minerals, metals, and materials, including concurrent publications from the 1997 TMS Annual Meeting.
Sunday, February 9, 2:00 p.m.-7:00 p.m.
Monday, February 10, 7:00 a.m.-7:00 p.m.
Tuesday, February 11, 7:00 a.m.-6:00 p.m.
Wednesday, February 12, 7:00 a.m.-6:00 p.m.
Thursday, February 13, 7:00 a.m.-1:00 p.m.
COMPUTER-AIDED INSTRUCTION DISPLAY
The easy accessibility and power of the personal computer (PC), as well as the education of engineering students in the use of these tools, have encouraged TMS to develop Computer Aided Instructional (CAI) software modules. These computer aided packages have been developed for use in metallurgy/materials science curricula where course content includes solving diffusion couples, development of thermodynamic stability diagrams, log-normal analysis of powder size distributions, simulation of heat transfer in continuous casting, and root solving techniques for nonlinear equations. They are also applicable in electrical, chemical, and mechanical engineering instruction. Computer demonstrations of the modules will be available in the TMS Publications Sales Area throughout the conference.
BUSINESS SERVICES CENTER
Kinko's is the exclusive business center for all show exhibitors and attendees at the Orange County Convention Center. The following services are available on site: facsimile services, cellular phone rentals, packing, shipping and receiving, computer rentals, digital pager rentals, office supplies, photocopying, signs, poster, banners, business cards, office equipment rentals. The center will be open Monday, February 10, through Wednesday, February 12, during registration hours. Kinko's is located on the ground level of the convention center.
THE TMS EMPLOYMENT REFERRAL BOARD
The Employment Referral Board will be located near the TMS membership area. Member attendees may leave their resumes and employers may post jobs available. Members may also pick up information/resume forms about TMS's Employment Service, Resume Link.
CHECK YOUR E-MAIL
Want to check your e-mail back at the office? Or surf through TMS OnLine on the World Wide Web? Just stop by the TMS Member Services area where a computer will be available for you to access your e-mail and other Internet services, including the web anytime during registration hours. Please note: To check your e-mail, you must know how to access your e-mail account remotely.
TRAVEL AND DESTINATION INFORMATION
Airlines: Air access is from any major airport to Florida. The Orlando airport only 15 minutes from the Orlando Airport.
Highway Travel: Orlando is easily accessible via all major routes in Florida. The city is served by most major bus lines.
Climate: The average temperature is 80 degrees. Some rain can be expected in February.
Dining: Orlando offers a feast of international and continental cuisine from elegant dining at five-star restaurants to quaint cafes to fast food places.
Ground Transportation: Airport Limousine is available outside the baggage terminal. Adults $10.50 one way, $18.00 round trip; Children age 4-13 $4.00 one way, $6.00 round trip; Children under 3 years of age ride free. Taxi service is also available from Orlando International Airport at a cost of approximately $22.00. Bus transportation via city bus service to malls and downtown area is available at a cost of $0.75
TMS FOUNDATION GOLF SHIRTS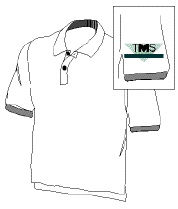 Support the TMS Foundation . . . and look good doing it!
In conjunction with the 1997 TMS Annual Meeting, the TMS Foundation will be selling attractive and comfortable golf shirts for only $35. A portion of the purchase price of each shirt will go to the TMS Foundation. The shirts are white and trimmed in navy blue and green with the TMS Foundation logo on the left sleeve. They are 100% cotton mesh knit and are made in the U.S.A. These shirts are great for almost any occasion. In fact, they will be great to wear in Orlando during the conference.
There's More! Everyone who purchases a shirt will automatically be entered in a drawing for a complete set of Callaway golf clubs, including bag and headcovers-a total value of more than $1,600. You can order your shirt on the registration form when you pre-register for the meeting. The shirts will be available for pick up in the convention center at the 1997 TMS Annual Meeting in Orlando at a special display in the TMS exhibit area. Don't miss these great shirts and a chance at the Callaway golf clubs. Register for the 1997 TMS Annual Meeting today and don't forget to order your shirt!
The TMS Foundation would like to thank Alumax, Inc. for their generous support of the Callaway golf club giveaway.

---
The information on this page is maintained by TMS Customer Service Center (csc@tms.org).