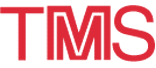 Fourth International Symposium on Recycling of Metals: Table Top Exhibit
---
2000 TMS FALL EXTRACTION AND PROCESS METALLURGY MEETING: NEW TECHNOLOGIES FOR THE NEXT MILLENNIUM
Combining Lead-Zinc 2000 and Recycling of Metals and Engineered Materials
October 22-25, 2000 · Pittsburgh, Pennsylvania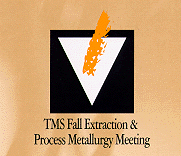 The Minerals, Metals & Materials Society's (TMS's) 2000 Fall Extraction and Process Metallurgy Meeting: New Technologies for the Next Millennium (Combining Lead-Zinc 2000 and Recycling of Metals and Engineered Materials), will be held at the Pittsburgh Hilton Hotel, in Pittsburgh, Pennsylvania, from October 22-25, 2000. The Pittsburgh Hilton Hotel is located in downtown Pittsburgh, across from historic Fort Pitt. It provides the ideal location for the TMS Fall Extraction and Process Metallurgy Meeting, which combines two of TMS's popular series meetings—Lead-Zinc 2000 and Recycling of Metals and Engineered Materials. The constituent symposia will coorganize sessions related to the recycling of lead and zinc.

A trade table top exhibit is being organized to compliment the technical symposium. The symposium will bring together scientists and engineers, managers, researchers and operators involved in the development and application of recycling a wide variety of metals and materials, including Aluminum and other light metals, lead, zinc, and others.

The table top exhibit will provide participating companies an opportunity to participate in this international forum to share innovations and products related to these technologies. The exhibition fee of $1,000 includes
One eight-foot draped table with two chairs

A company description in the Show Directory distributed to all meeting registrants

Hosted coffee and refreshment breaks in the Exhibition area

One complimentary registration to the technical sessions and exhibits

A post show report of symposium participants

Exhibition management services
Table top exhibit hours are scheduled to complement the technical session schedule, with the coffee breaks being conducted in the exhibit area. Hours are
Monday, 23 October Noon-5:00 PM

Tuesday, 24 October 9:30 AM-3:00 PM

Wednesday, 25 October 9:30 AM-Noon
To reserve space for the table top exhibit, complete the secure on-line space reservation form, or complete and return the space reservation form in portable document format (which can be viewed using Adobe Acrobat). To allow sufficient time for advance planning and promotion, prospective exhibitors are encouraged to reply no later than August 15, 2000.

For more information or to reserve space for the event, contact:
Cindy A. Wilson
Sales Coordinator
TMS
184 Thorn Hill Road
Warrendale PA 15086
Telephone: 724/776-9000, ext 231
Fax: 724/776-3770
Email: wilson@tms.org
---
The information on this page is maintained by TMS Meetings Department (mtgserv@tms.org).