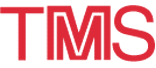 Fourth International Symposium on Recycling of Metals
---
2000 TMS FALL EXTRACTION AND PROCESS METALLURGY MEETING: NEW TECHNOLOGIES FOR THE NEXT MILLENNIUM
Combining Lead-Zinc 2000 and Recycling of Metals and Engineered Materials
October 22-25, 2000 · Pittsburgh, Pennsylvania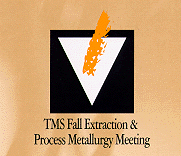 ---
MEETING MILESTONE DATES
---
Final Papers Due
June 1, 2000
---
The Minerals, Metals & Materials Society's (TMS's) 2000 Fall Extraction and Process Metallurgy Meeting: New Technologies for the Next Millennium (Combining Lead-Zinc 2000 and Recycling of Metals and Engineered Materials), will be held at the Pittsburgh Hilton Hotel, in Pittsburgh, Pennsylvania, from October 22-25, 2000. The Pittsburgh Hilton Hotel is located in downtown Pittsburgh, across from historic Fort Pitt. It provides the ideal location for the TMS Fall Extraction and Process Metallurgy Meeting, which combines two of TMS's popular series meetings—Lead-Zinc 2000 and Recycling of Metals and Engineered Materials. The constituent symposia will coorganize sessions related to the recycling of lead and zinc.
RECYCLING OF METALS AND ENGINEERED MATERIALS
Recycling has become increasingly important to society and industry to meet the goals of cost reduction, efficient management of limited resources, and reduced landfill utilization. This symposium will continue the tradition established by earlier TMS recycling meetings in this series of bringing participants together to discuss fundamental and practical aspects of recycling of metals and engineered materials.
General Chairs
For more information on the Fourth International Recycling Symposium, please contact:
Donald L. Stewart Jr.
ALCOA, Inc.
Alcoa Technical Center
100 Technical Drive
Alcoa Center, PA 15069-0001, USA
telephone (724)337-5764
fax (724)337-4063
e-mail donald.stewart@alcoa.com

Robert L. Stephens
Cominco Research
PO Box 2000
Trail, B.C., Canada V1R 4S4
telephone (250)364-4295
fax (250)364-4400
e-mail rob.stephens@trail.cominco.com

James C. Daley
Daley & Associates
1020 W. Cactus Wren Drive
Phoenix, AZ 85021, USA
telephone (602)678-1616
fax (602)678-1661
e-mail daleyjim@aol.com

Topics and Organizers
The papers at this international symposium will cover fundamental and applied research and industrial practices for the recycle of a wide variety of materials.


Aluminum Scrap Recycling
Ray D. Peterson, Imco Recycling
J. Van Linden, Recycling Technology Services Inc.
Aluminum Dross Processing
Han Spoel, Spalco
Annette Revet, IMC Kalium
Aluminum By-Product Recovery
John Hryn, Argonne National Laboratory
John Pickens, Alumitech
Automotive Recycling
Edward J. Daniels, Argonne National Laboratory

Magnesium and Titanium Recycling
Robert E. Brown, Magnesium Monthly Review
EAF Dust Processing
A.D. Zunkel, A.D. Zunkel Consultants, Inc.
Russ Bleakney, Inmetco
Secondary Zinc
Larry Parkinson, Interamerican Zinc, Inc.
Steve James, Big River Zinc Co

Secondary Lead
Rick Lieby, East Penn Manufacturing
Andreas Sigmund, RSR Technologies, Inc.
Secondary Copper, Nickel and Cobalt
Kunibert Hanusch, Hüttenwerke Kayser AG
Larry Southwick, L.M. Southwick and Assoc.
Spent Catalyst
R.L. Stephens, Cominco Research
Edward Wiewiorowski, EURAM Technologies, Inc.
Precious Metals
R.L. Stephens, Cominco Research
Refractory
Charles E. Semler, Semler Materials Services
Jeff Gorss, Alcoa
Electronics/Plating
Paul Queneau, P.B. Queneau and Assoc.
Lee Wilmot, HADCO Corp.
Technical Program
The final technical program for the meeting is available for download as a portable document format file.
Table Top Exhibit
A trade table top exhibit is being organized to compliment the technical symposium. The table top exhibit will provide participating companies an opportunity to participate in this international forum to share innovations and products related to these technologies.

---
The information on this page is maintained by TMS Meetings Department (mtgserv@tms.org).