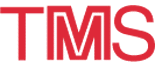 Expo 2000: Event Profile
---
March 12ó16 · 2000 TMS ANNUAL MEETING · Nashville, Tennessee

During the week of March 12-16, 2000, at the 129th Annual Meeting & Exhibition of The Minerals, Metals & Materials Society (TMS), you can join more than 4,000 science and engineering professionals, representing more than 70 different countries, who will come together for the opportunity to add to their own store of knowledge by capitalizing on the expertise and experience of their colleagues. More than 200 sessions and 1,000 individual presentations are scheduled. Whether your technical interests lie in precious metal extraction, aluminum processing, high-temperature superconductors, or just about any other materials field or metallurgical discipline, you will find programming that addresses your most pressing needs.
Event Profile
No other "show" offers more qualified attendees, leads, and a higher return-on-investment than the TMS Annual Meeting & Exhibition. The TMS Exhibition is an unmatched opportunity to comprehensively market materials, technology, products, or services to more than 4,500 management and research professionals from the international metals and materials community.
Providing critical information and technology as we open a new milleniumto help companies operate more profitably and efficiently. This all-encompassing event is the key opportunity for scientists, engineers, suppliers, metallurgists and producers to share critical information on:
The latest research findings
Product and process innovations
Industry, market and government trends
Innovative electronic, robotic or technological developments
All of which will be critical to business survival in the new century. In addition to the Exhibition, the event will feature more than 200 technical sessions with the latest scientific and technical developments. Tutorial lectures, short courses, receptions, luncheons and plant tours will round out the total meeting experience.
The Year's Only Gathering of its Kind
Attendees at the 2000 TMS Annual Meeting & Exhibition are the leadership of the metallurgical engineering and materials science fields, the most qualified and influential decision-makers to gather at any one event during 2000. Expo 2000 will not only put you face-to-face with your most qualified prospects, but it can also provide you the opportunity to establish or enhance your worldwide corporate identity.
Features for 2000
Global Innovations In Materials Processing And Rapid Manufacturing: Manufacturers of rapid manufacturing equipment and related commercial product service providers will show in a special reserved section of the TMS Exhibit Hall. Symposium participants will have an opportunity Monday afternoon to hear overview talks and to visit manufacturers and service providers as part of the symposium.
Parts Show: Parts produced using rapid manufacturing will be displayed with Posters in the Convention Center on Tuesday afternoon. Entries are invited in two categories: parts built using commerically available machines and parts built using research or "home built" equipment. To reserve space to show a part, contact TMS. The most distinctive parts in both categories will be recognized at the awards presentation on Wednesday evening.
---
The information on this page is maintained by the TMS Meetings Departmentr (mtgserv@tms.org).