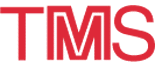 2000 TMS Annual Meeting & Exhibition: Exhibitor Prospectus
---
March 12ó16 · 2000 TMS ANNUAL MEETING · Nashville, Tennessee

During the week of March 12-16, 2000, at the 129th Annual Meeting & Exhibition of The Minerals, Metals & Materials Society (TMS), you can join more than 4,000 science and engineering professionals, representing more than 70 different countries, who will come together for the opportunity to add to their own store of knowledge by capitalizing on the expertise and experience of their colleagues. More than 200 sessions and 1,000 individual presentations are scheduled. Whether your technical interests lie in precious metal extraction, aluminum processing, high-temperature superconductors, or just about any other materials field or metallurgical discipline, you will find programming that addresses your most pressing needs.
Why Exhibit in Nashville?
Since its first annual meeting over 100 years ago, TMS has brought metallurgical professionals from around the globe together to share insights and information. In 2000, the new millennium's first major international show featuring metals and materials technology will be the 2000 International Metals and Materials Exposition, presented as a part of the 2000 TMS Annual Meeting.

The international metals and materials community will convene in Nashville to begin the new century with the resources to take the lead in materials and metallurgical production, specification, design and testing, and the issues affecting their future.

Dynamic exhibits, comprehensive technical programming, informative lectures and addresses come together in a context focused on network-building and problem-solving. The event provides an unsurpassed forum for the industry's top researchers, managers, specifiers, and leaders to engage in discussion, examine technologies and determine solutions that will ensure progress and profitability into the next century. Plan now to be a part of something special.

We hope you will accept our invitation to join over 180 exhibiting organizations in Nashville next March for Expo 2000. Being part of the TMS Community means meeting key people, developing new business relationships and maintaining existing ones.
More Benefits of Exhibiting with TMS:
Reaching a projected audience of 4,500 plus industry professionals
Complimentary guest passes for your clients
Exhibitor registration to attend technical sessions
Company listing in the pre-show report and the on-site directory
Link in TMS OnLine to your company's web site
Pre- and post-conference mailing labels
Vendor mini-session presentation opportunity
TMS associate membership
Tuesday lunch for all meeting participants
---
The information on this page is maintained by the TMS Meetings Department (mtgserv@tms.org).