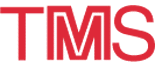 1999 TMS Annual Meeting: Sponsorship Opportunities
---
February 28-March 4 · 1999 TMS ANNUAL MEETING · San Diego, California

During the week of February 28-March 4, 1999, the 128th Annual Meeting & Exhibition of The Minerals, Metals & Materials Society (TMS) will be held in San Diego, California at the San Diego Convention Center.

In addition to participating in the meeting exhibition, other sponsorship activities can exponentially increase the exposure of your company to thousands of attendees. All exhibiting firms are offered the opportunity to sponsor various activities at the annual meeting. Your organization, through sponsorship may have the opportunity to:
Significantly increase your exposure to over 4,500 international attendees
Inform colleagues and clients that you support the industry and project the positive image of your company
Earn bonus exhibitor priority points
You get first selection of TMS hospitality suites
Your company will receive "spotlight" recognition in the annual meeting program published in JOM and on the TMS OnLine meeting web site
Recognition in special signage in the convention center identifying your organization as a sponsor and sponsor ribbons for your staff
Reservations are now being accepted for the following sponsorship opportunities being offered during the 1999 TMS Annual Meeting &amp Exhibition. If you do not see the sponsorship opportunity that fits with your marketing plan, please contact us with your suggestions.
Electronic Information Central: Sponsorship may go toward a new, electronic central message and information center in the main lobby of the San Diego Convention Center. The information center will enable attendees to access e-mail and messages using the attendee's badge bar code card. Each sponsor will receive a technical session locator, an exhibit product locator, and a convention center floorplan. The Electronic Information Center will be set up with multiple terminals and a large sign which will feature your company's logo as sponsorship recognition.
Coffee Breaks: Located in the break areas outside technical session rooms, coffee breaks will take place each morning, Monday through Thursday. You can specify the location nearest the partners in your topic area. Recognition for your organization will include signage on the break table and acknowledgement in the program.
Author's Coffee: Each morning, up to 500 speakers gather with fellow technical program presenters for a continental breakfast to discuss the program schedule and to review their presentations. Sponsor a morning's breakfast any day Monday through Thursday at the exclusive or partial sponsor levels. Your company's name will appear on signs and custom printed napkins with your logo.
Conference Banquet: Reach over 300 industry leaders attending the TMS banquet, the premier society event. Each guest will receive a banquet program acknowledging your company's sponsorship and an announcement will be made during the program to recognize your organization as a sponsor. You may elect to sponsor the banquet opening reception or the dessert buffet.
At-Meeting Program-Partial Sponsor: The program is distributed to all conference registrants, and is the primary reference source for schedule, program, and function information. Credits for sponsorship of the program would appear on the cover, along with signage throughout registration.
Student/Faculty Mixer: Held on Sunday evening, the Student/Faculty Mixer brings together more than 500 students and TMS members for beverages, snacks, and dancing. The sponsors name will be featured on a sign at entrance to the function.
More Information
Sponsorships will be assigned on a first-come first-served basis. For more detail, complete and submit the electronic Exhibitor Registration Form or contact

Cindy Wilson, TMS Marketing Coordinator
TMS, 184 Thorn Hill Road, Warrendale, PA 15086
Telephone (724) 776-9000, ext. 231; Fax (724) 776-3770; E-mail wilson@tms.org.



---
The information on this page is maintained by Cindy Wilson (wilson@tms.org).