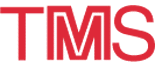 1999 TMS Annual Meeting: Exhibitor Prospectus
---
February 28-March 4 · 1999 TMS ANNUAL MEETING · San Diego, California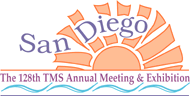 Show Dates and Hours

Monday, March 1, 2:00 p.m.-7:00 p.m.
Tuesday, March 2, 10:00 a.m.-5:30 p.m.
Wednesday, March 3, 10:00 a.m.-3:00 p.m.

During the week of February 28-March 4, 1999, the 128th Annual Meeting & Exhibition of The Minerals, Metals & Materials Society (TMS) will be held in San Diego, California at the San Diego Convention Center.
Why Exhibit in San Diego?
Expo '99 is not just an exhibit, the Annual Meeting & Exhibition has grown into the premier annual event for the presentation and display of new technology and products to the international metals and materials community. In 1999, more than 4,500 technical and management professionals will meet in San Diego during the annual meeting for this century's last opportunity to hear and see the technology that will launch their organizations into the 21st century. Expo '99 can not only put you face-to-face with your most qualified prospects, but it can also provide you the opportunity to establish or enhance your worldwide corporate identity. View the exhibition floorplan where at least 200 companies are expected to display during Expo '99. Also, check out the current list of exhibitors planning to participate in the 1999 exhibition.

In addition to Expo '99, the more than 200 technical sessions and 1,200 individual presentations update metallurgists, materials scientists, and engineers with the latest scientific and technical developments on everything from aluminum alloys to zinc extraction. Attendees are the leadership of the metallurgical engineering and materials science fields, the most qualified and influential decision-makers to any one event during 1999. The TMS Annual Meeting attracts an international professional audience which possesses the experience and qualifications that put them in the management and supervisory research and production positions of their organizations.

The number of participating organizations and the overall size of the exhibition has increased each year (see the growth chart). The reason for this growth is that the exhibit not only adds new participating organizations each year, but our past participants keep returning. Exhibiting companies have found that the TMS audience doesn't consist of disinterested attendees wandering through the exhibit hall, but interested, qualified professionals looking for solutions to keep their organization moving forward. For details on who has exhibited in the recent past, check out the lists of 1998 participating exhibitors and 1997 participating exhibitors.

Come and join your competitors who have experienced the sales and marketing success available through participation in the 1999 TMS Annual Meeting &amp Exhibition and its accompanying plan of advertising and sponsorship opportunities.
General Information
The mechanics of exhibiting: Reserve your booth by completing and submitting the electronic exhibitor reservation form. Standard booths are 10 ft. x 10 ft with a 8 ft. back drape and a 3 ft. side drape. All booths are priced at $20.00 per square foot through November 30, 1998. After November 30, exhibit space will be priced at $22.00 per square foot. Contact TMS to discuss custom sizing of a booth to fit your space requirements.

Included with your booth rental: Your company will be detailed in the JOM Preshow Report, the Exhibition Show Directory, and on the World Wide Web 1999 Exhibitors List which will contain a link to your home page. For an example of how this was handled last year, visit the Exhibitors List from the 1998 TMS Annual Meeting. You will receive two complimentary full-conference registrations, which includes admission to all technical sessions. Security throughout the show including set-up and dismantle. Complimentary VIP exhibition passes. One complimentary new TMS membership per company. A full 44 inch sign displaying your company name and booth number. Comprehensive exhibitor's service manual, and exhibition management services

including frequent "exhibitor updates" to keep you informed of the latest deadlines and opportunitites.
Programming topics will include:
Aluminum Processing (Alumina/Bauxite, Cast Shop, Carbon, Aluminum Reduction, and Recycling)
Copper, Nickel, Cobalt, Lead, and Zinc Processing
Electronic Materials
Precious Metals
Refractory Metals
High-Performance Alloys and Composites
High-Temperature Superconductors
Materials Analysis (Structure, Properties, and Performance)
General Recycling and Waste Minimization
Powder Metallurgy
Plasma and Laser Processing
Attendees are from organizations such as:
Primary/Secondary Metal Producers (Ferrous and Nonferrous)
Advanced Engineered Materials Producers (Alloys, Composites, Intermetallics, etc.)
Downstream Metal Processors (Foundries, Castings, Extruders, etc.)
Finished Product Manufacturers (OEMs)
Commercial, Government, and Nonprofit Laboratories
Parts and Components Manufacturers
Metals and Materials Testing Facilities
Engineering and Consulting Firms
Universities
Over 4,500 of your prospects will be in search of:
Air Pollution Control Equipment
Aluminum Producers
Aluminum Production Technology & Equipment
Automation Software/Databases
Carbon Technology & Supplies
Casting Equipment and Systems
Characterization
Chemicals & Additives
Combustion Technology
Computer Simulation
Degassing/Furnace/Melting Technology
Engineering and Consulting Services
Filtration
Graphite
Industrial Gases

Injection Molding
Instrumentation
Lubricants
Materials Handling
Material Information
Microscopes
Molten Metal Pumps
Recycling Equipment
Refractory and Insulation Products
Service Contractors
Testing and Analysis
Trade Publications
Valves
Vehicles/Transportation Systems
X-Ray Equipment
In addition: All exhibiting firms are offered the opportunity to sponsor various activities at the annual meeting. Sponsorship can exponentially increase the exposure of your company to thousands of attendees. For more information on sponsoring during the 1999 Annual Meeting & Exhibition visit the Sponsorship Opportunities page.
More Information
For exhibition and advertising information, complete and submit the Exhibitors Reservation Form or contact

Cindy Wilson, TMS Marketing Coordinator
TMS, 184 Thorn Hill Road, Warrendale, PA 15086
Telephone (724) 776-9000, ext. 231; Fax (724) 776-3770; E-mail wilson@tms.org.



---
The information on this page is maintained by Cindy Wilson (wilson@tms.org).