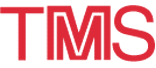 ISSI-2: Travel and Destination Information
---
2ND INTERNATIONAL SYMPOSIUM ON STRUCTURAL INTERMETALLICS
September 21-25, 1997 · Champion, Pennsylvania

The 2nd International Symposium on Structural Intermetallics (ISSI-2), sponsored by the High Temperature Alloys and Titanium Committees of The Minerals, Metals & Materials Society's (TMS's) Structural Materials Division will be held at the Seven Springs Mountain Resort, Champion, Pennsylvania, Sunday, September 21, through Thursday, September 25, 1997.
Seven Springs Mountain Resort is much more than just a meeting and convention site. It's a unique experience. Attendees of ISSI-2 will be housed in the modern Alpine-style main lodge, with a ten story hotel wing, which offers 385 guest rooms and 12 suites. Additional facilities include five cabins, 20 chalets, plus townhomes and condominium apartments. Rooms in the main lodge have individual climate control, direct-dial telephone, and color TV. Check-in time is 5:00 p.m. and check-out time is noon. Also, guests may receive faxes while staying at Seven Springs Mountain Resort at the front desk. The fax number is (814) 352-7911.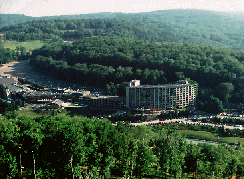 Another exciting feature of this symposium is that attendees will enjoy and benefit from a modified American housing/dining plan. This includes lodging, breakfast, and dinner each day. The modified American Plan does not include lunch, however, lunch is available at the participant's discretion. The modified American Plan rates for the conference are as follows:
Single occupancy, $127 per person/per night
Double occupancy, $97 per person/per night
Three/Four to a room, $85 per person/per night
Lodging reservations must be made in advance and will be taken on a first-come basis. Lodging reservations must be received by the Seven Springs Mountain Resort by September 1, 1997. Please download the Housing Reservation Form, which is in Adobe Acrobat portable document format (.pdf). Mail or fax it directly to the Seven Springs Mountain Resort as indicated on the form. (No telephone reservations, please.) The above rates are only available by using the official lodging form. If you have any questions regarding reservations after they have been mailed or faxed, call (800) 452-2223, ext.7009.
ABOUT SEVEN SPRINGS RESORT
Resort Activities: A 6,685 yard, 18-hole golf course is available, as well as a tennis center, year-round indoor swimming pool, racquetball courts, bowling lanes, and indoor miniature golf. Chairlift rides to the top of the mountain will be arranged so that ISSI-2 attendees can enjoy the thrill of the Alpine Slide ride.

Accessibility: The resort is located in the heart of Western Pennsylvania's most colorful area: the Laurel Highlands. If not taking advantage of some of the world's most breathtaking foliage at Seven Springs, ISSI-2 attendees can enjoy visiting nearby Fallingwater—Frank Lloyd Wright's historical architectural achievement; Ligonier's pre-Revolutionary War era fort and 18th century hardware stores with handmade products; hand-blown glass factories; and Horizon Outlet Center, an outlet mall. You will find more information about many of these nearby attractions by accessing the ISSI-2 tour information page.

Climate: September is one of the most comfortable months to visit the Seven Springs area. Daytime temperatures average in the mid- to high 70's, with nights cooling to the mid- to low 60's.

Satisfaction: Seven Springs is a totally unique resort. It combines all the facilities, accommodations and activities available at most other resorts, including free parking, a magnificent location, and a staff dedicated to your satisfaction. You can do it all at Seven Springs.
TRAVEL TO SEVEN SPRINGS
Flying: USAirways has been designated as the official carrier for the attendees of ISSI-2. For information on special pricing, visit the airline information page.

Shuttle Service: The Pittsburgh International Airport is approximately 90 minutes from Seven Springs. Complimentary shuttle bus service is available from the airport if prior arrangements have been made via the ISSI-2 Registration Form. The complimentary shuttle to Seven Springs will be available three times on Sunday for arrivals and twice on Thursday for departures. Pick-up will be in the baggage claim area of the landside terminal.

Car Rental: The Hertz Rent-a-Car System has been selected as the official car rental company for this conference. Special rates are available.

Highway Travel: The Seven Springs Resort may be conveniently accessed from a number of directions:
From the east, via the Pennsylvania Turnpike (Route 76): Get off at Exit 10 (Somerset) and turn right. At the third traffic light, turn right onto Rt. 31 West. Follow Rt. 31 West for approximately 7 miles, then turn left at Pioneer Park and travel approximately 4 miles. At the first stop sign, turn right. Seven Springs will be approximately 5 miles ahead.
From the west, via Pennsylvania Turnpike (Route 76): Get off at Exit 9 (Donegal) and turn left off of the exit ramp, onto Rt. 711 & Rt. 31. Go approximately 2 miles, then turn right onto Rt. 711. Follow 711 for 2 miles. At the gas station in Champion, turn left. Follow the signs to Seven Springs (approximately 8 miles).
From the southeast, use Pennsylvania Rt. 711/653/219 to Rt. 31.
---