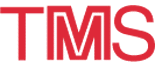 2000 TMS Annual Meeting: Exhibitors Product and Technology Mini-Sessions
---
March 12-16 · 2000 TMS ANNUAL MEETING · Nashville, Tennessee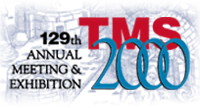 During the week of March 12-16, 2000, the 129th Annual Meeting & Exhibition of The Minerals, Metals & Materials Society (TMS), will be held in Nashville, Tennessee, at the Opryland Hotel and Convention Center.

As a complement to the 2000 TMS Annual Meeting Technical program, many of the organizations participating in the exhibition will be offering brief presentations of their new technologies, equipment, and processes in special presentation areas near the entrance to the exhibit hall.

At these sessions you will have the opportunity to:
Learn of the latest techniques, products, and processes directly from producer, manufacturer, and supplier representative
Receive detailed information on products and services as featured on the exhibit floor
Identify and locate the companies who provide the solutions for your most pressing needs
PRESENTATION SCHEDULE
The product and technology mini-sessions will be held:
Monday, March 13, 2000--1:00 p.m.-2:00 p.m.
Tuesday, March 14, 2000--11:45 a.m.-2:00 p.m.
Topic: FURNACES
Date: Monday, March 13, 2000
Room: Cleveland Room A
Topic: CARBON & ALUMINUM PROCESSING TECHNOLOGY
Date: Tuesday, March 14, 2000
Room: Cleveland Room A
Topic: CASTING & REFRACTORY TECHNOLOGY
Date: Tuesday, March 14, 2000
Room: Cleveland Room B
SESSION ABSTRACTS
---
SESSION 1:
Topic: FURNACES
Date: Monday, March 13, 2000
Room: Cleveland Room A
---
Time: 1:00 p.m.
Presented by: LOI, Inc. Don Martosko
Title: Furnaces for Aluminum Scrap
Schmitz+Apelt LOI features the Twin-Chamber melting furnace, for state-of-the-art melting of contaminated aluminum scrap without using salt, resulting in low energy and fuel consumption, minimal metal loss, and reduced dross accumulation in the bath. This process is based on low-temperature carbonization and subsequent incineration of the contaminants, marking it an environmentally compatible solution.
Time: 1:15 p.m.
Presented by: JUNKER INC., Dirk Menzler
Tittle: Furnace Technology for the New Millennium
The focus of our presentation will be on High Technology heat-treatment furnaces for the production of automotive and aircraft products in the Aluminum manufacturing sector. Dr. Menzler will be discussing process technology and advantages of new generation of heat treatment flotation lines and high volume chamber furnaces for rolling and casting sectors of the industry.
Time: 1:30 p.m.
Presented by: BRICMONT, INC., Eric Blake
Title: Bricmont's Capabilities in the Aluminum Industry
Although well known internationally in the steel industry for its pioneering work on various high temperature furnaces, the Bricmont name is, at this time, not as universally known in the aluminum industry.
Bricmont has recently acquired the rights to the Davy-Swindell aluminum furnace technology and the aim of the presentation would be to briefly outline Bricmont's capability in the aluminum industry.
Time: 1:45 p.m.
Presented by: SILVER NEEDLE, Larry Stinson Protective
Title: Clothing and Preventing Heat Stress
---
Topic: CARBON & ALUMINUM PROCESSING TECHNOLOGY
Date: Tuesday, March 14, 2000
Room: Cleveland Room A
---
Time: 11:45 a.m.
Presented by: JERVIS B WEBB COMPANY, Dan Borich
Title: Improve Material Handling Efficiency
Practical application of automatic guided vehicles; power and free conveyors; heavy-duty conveyors, automated storage and retrieval systems; and automation equipment for anode or slab handling, butt removal and thimble presses.
Computer directed Webb conveyors and integrated material handling products can automate rod/anode assembly, and improve green or baked anode management to help increase efficiency in aluminum production operations.
Time: 12:00 p.m.
Presented by: AISCO SYSTEMS INC, Michael Hodson
Title: Recent Developments In Aisco Rodshop Equipment
Time: 12:15 p.m.
Presented by: EIRICH MACHINES, Berthold Hohl
Title: New Process for The Preparation Of Anode Paste
An interesting new process for the preparation of anode paste is presented. It represents an alternative to the conventional process technology which has remained almost unchanged for decades.
The new process is based mainly on the electric heating of the dry substances as well as on the subsequent separate homogenizing and cooling in an intensive mixer and a mixing cooler. The new technology is characterized by a drastically reduced energy consumption, exact temperature control, minor wear and tear and little maintenance expenditure, low investment cost and finally an optimum anode quality.
Time: 12:30 p.m.
Presented by: FCB, Philippe Ramel
Title: Liquid Pitch Handling and Storage
For environmental reasons, the smelters will be progressively converted to liquid pitch supply in place of solid pitch. The FCB presentation describes a liquid pitch terminal as supplied to ALBA and the additional changes required at the feeding of the paste plant.
Time: 12:45 p.m.
Presented by: JOHNSTON-VERMETTE, David Johnston
Title: Anode Brushing System
An automated brushing system has been developed for carbon anodes used in Pechiney type electrolysis cells. The brushing removes surface dust and particles, removing an important source of contaminants from the production cycle, and improving the overall efficiency of the electrolysis process. An 8 minute film shows the system at work.
Time: 1:00 p.m.
Presented by: ATAN AUTOMATION SYSTEMS
Title: New Members of the SCORE Family of Products
ATAN Automation Systems will be presenting the new members of the SCORE family, a suite of products designed to control and supervise the aluminum production electrolytic process. These products range from a fully distributed topology to an almost centralized architecture, offering the most suited solution for the smelter needs.
Time: 1:15 p.m.
Presented by: BHA GROUP, Mike Johnson
Title: Success With PulsePleat™ Pleated Filter Elements
Noranda Aluminum, Inc., a leading primary aluminum smelter, chose to work with BHA Group, Inc., in an effort to further reduce emissions levels from their potline fume treatment systems. BHA recommended pleated filter elements (PFEs) using high efficiency spun bonded media instead of polyester filter bags and cages in their dry scrubbers. Following installation, and 16 months of continuous operation, test results reflected that the pleated filter elements decreased particulate emissions by 75 percent, and hydrogen fluoride emissions by 65 percent. These results were achieved at higher air volumes and lower differential pressure averages than were available with traditional filter bags and cages.
Time: 1:30 p.m.
Presented by: BROCHOT USA, Ray Pate
Title: Superbar 21
Superbar 21 is the most efficient anode riser bar currently used anywhere in the world. With its patented design, Superbar 21 gives you:
Millions of dollars worth of savings on your utility bill Lower maintenance and repair costs (-50% lower)
Ability to operate more efficiently and produce more aluminium for less
Time: 1:45 p.m.
Presented by: MID-MOUNTAIN MATERIALS, Jay Engelbrecht
Title: Quartex™--An Advanced Solution Against Abrasion Chemicals and Heat
For over 20 years, Mid-Mountain Materials has offered better ways to protect your people, your environment and your equipment. Not since asbestos has there been a product capable of handling abrasion, chemicals and heat. Quartex (Q) refractory textiles, is a revolutionary series of textile products that possess resistive properties for applications where extreme conditions exist.
---
Topic: CASTING & REFRACTORY TECHNOLOGY
Date: Tuesday, March 14, 2000
Room: Cleveland Room B
---
Time: 11:45 a.m.
Presented by: WAGSTAFF, Craig Johnson
Title: Wagstaff VariMold TM Ingot Casting in a Whole New Dimension
This presentation will highlight capabilities of the Wagstaff VariMold TM Adjustable Ingot Casting Technology.
VariMold is a uniquely engineered adjustable ingot mold utilizing Wagstaff LHC TM Low Head Composite Casting Technology. VariMold has been in service for over one year and has proved its capabilities significantly reduce hot rolling edge trim by optimizing the ingot width.
This presentation will briefly explain the equipment operation while focusing on the economic advantages.
Time: 12:00 p.m.
Presented by: ASBURY FLUXMASTER, Roman Nykyforuk
Title: Lubricants and Parting Agents for the Casting Industry
This presentation will review parting agents for roll casters and junction line coatings for hot billet casters
Time: 12:15 p.m.
Presented by: MAGCHEM INC., Jean Desroches
This presentation will discuss the lubrication requirement in DC casting of aluminum billets and ingots. Subjects will include:
Nature and functions of DC casting fluids.
Water treatment impacts ( separation, biocides, etc.).
Oxydative behavior in DC conditions.
Natural oils vs synthetic "man-made" casting fluids.
Time: 12:30 p.m.
Presented by: HYDRO ALUMINIUM HYCAST
Title: Ram technology is adding a new dimension to melt refining.
The Hycast Removal of Alkaline Metal (RAM) is designed to improve product quality and profitability where all pretreatment of potroom metal is concerned. Figures from existing installations shows up to 70% operation cost reduction in the production line, improved casthouse HES and definitely a better end product. All products from Hycast, as Inline filters, Rod Feeders, Electrical Heated Launder Systems and Hot Top Mould Systems for billet have all been created as a result of the market demands and Hydro Aluminium's needs for taking total casthouse economy into account. This presentation will describe the benefits by installing the Hycast RAM and also highlight Hydro Aluminium's typical production lines from RAM to casting.
Time: 12:45 p.m.
Presented by: STAS, Martin Taylor
STAS commercializes new technologies for light metal industries; An update on the latest equipment deliveries and projects will be given for examples from aluminum cast houses & smelters; a magnesium project; lithium R&D project.
In particular we will highlight the most recent applications for the Alcan Compact Degasser and the Rotary Salt/gas Injectors.
Time: 1:00 p.m.
Presented by: EMP TECHNOLOGIES
Title: Metal Stirring and Melting Using Electromagnetic Pumping Techniques
Over the past decade there has been significant work undertaken on the application of electromagnetic pumping within the aluminium industry. EMP Technologies have now installed 31 systems with considerable success throughout the world's aluminium industry with some clients now buying their 2 nd and 3 rd systems.
The EMP system, which is easily retrofitted to existing furnace installations, has provided clients with a variety of benefits including;
Easy retrofit to existing furnace installations
Very low maintenance
Increases in production in excess of 25% have been experienced
Can significantly improve metal recovery
Continuous operational process
Significantly increased thermal heat transfer efficiency
Extremely good chemical and temperature homogeneity
Improved alloying capability in both speed and homogeneity
Reduction in bath temperature gradients
Flexibility in choice of scrap feed including aluminium chips
Reduced dross formation
Flux less melting
Reduced furnace refractory wear
Time: 1:15 p.m.
Presented by: FOSBEL INC., Bob Chambers
Title: Fosbel Inc Introduces New Applications for Ceramic Welding Technology
During 1999, Fosbel Inc. has introduced two new methods of conducting ramp and roof repairs in aluminum furnaces. Plant engineers chose to utilize Fosbel Inc.'s ceramic welding technology as the only viable alternative due the advantages of the process:
The repair is performed at operating temperature
Further refractory damage resulting from refractory cool down/heat up is avoided.
Ceramic welding repair longevity vs. traditional repair longevity.
The ramp and roof repairs have been in service at two different plants since July 1999. Please join our discussions on the processes used in these repairs.
Time: 1:30 p.m.
Presented by: REX ROTO CORPORATION, Chuck Bestle
Title: High Performance Metal Delivery Systems Produce Measurable Savings
Continuous Casters and other critical casting operations require precise metal temperature control. Low mass flow rates result in significant and unpredictable temperature drops between the furnace and the casting center. Case histories are reviewed that demonstrate the use of thermally efficient metal delivery systems incorporating Pyrolite tm Heater Technology to preheat the refractory resulting in "virtually zero" metal temperature drop. Significantly reduced energy consumption, improved molten metal quality, simplified cast starts, improved worker safety, and a reduction in consumable cost per ton is achieved.
Time: 1:45 p.m.
Presented by: METAULLIC SYSTEMS, INC, Chris Vild
Title: New Melt Technology For Aluminum Recycling
The restructuring of the secondary aluminum industry has some interesting technological consequences. The users of secondary metal, especially the smaller companies, are increasingly more interested in recycling their in-house scrap and augmenting that with purchased scrap. This creates a need for efficient remelting systems for smaller operations. The growing secondary producers, attempting to retain their customer base, are responding by introducing cost-cutting measures. In addition to the traditional steps, there is a growing interest in improving process efficiency and reducing melt losses through the application of technology, similar to that used so successfully by the integrated primary industry. In cooperation with industry leaders in the field, several melting systems have been developed and were introduced one year ago. Since then, a number of installations have been completed and are operational, the field data of which will be discussed.
---
The information on this page is maintained by Cindy Wilson (wilson@tms.org).