---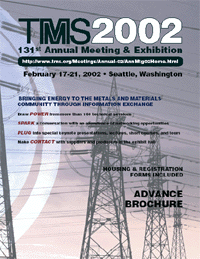 ---
ABOUT THE PRESENTER
---
Dr. Ramana G. Reddy is an ACIPCO Chair Professor of Metallurgical and Materials Engineering; Associate Director of Center for Green Manufacturing; and Adjunct Professor of Chemical Engineering at The University of Alabama. His academic and research work experiences include: Professor and Chairman of the Department of Chemical and Metallurgical Engineering at University of Nevada, Reno; Visiting Researcher at Lawrence Berkeley Laboratory; Indian Institute of Technology, Bombay; and Argonne National Laboratory.

Professor Reddy has 20 years of teaching and research experience in the field of chemical and materials engineering. He obtained his Ph.D. degree from the University of Utah. He has conducted projects involving thermodynamics and kinetics of metallurgical reactions; Pyrometallurgy, Hydrometallurgy, Plasma processing of metals, Molten Salt Electrolysis and Waste Processing.

He has published over 164 research papers in journals and 7 books including one undergraduate student textbook in thermodynamics. He has also delivered more than 116 invited lectures and research presentations in the USA and abroad. He has advised and worked with over 60 research scholars, students and visiting scientists. Dr. Reddy was recently recognized as a John Lewis Distinguished Lecturer of the year by the University of Utah.

Dr. Reddy has served in many leadership positions within the College of Engineering, University and other national and international organizations and has received many honors and awards.
---
EXTRACTION & PROCESSING DIVISION DISTINGUISHED LECTURER
Date: Tuesday, February 19, 2002, 1:30PM-3:00PM
Location: Washington State Convention & Trade Center
Room: South Level 6, Room 608

"Emerging Technologies in Extraction and Processing of Metals"



Presented by:
Ramana G. Reddy, FASM, The University of Alabama

About the topic:
The growing need to conserve energy, materials and prevent environmental pollution led to an increased demand for better understanding of potential as well as existing processes. In this context, thermodynamic and transport modeling of materials and processes provides a rapid and cost–effective means of conducting and minimizing the complexity of experimental investigations and developing innovative and environmentally friendly metallurgical processes. This presentation concentrates on some of the key examples from the author's experience, application of engineering fundamentals on new technologies as extractive metallurgy of copper, lead, aluminum and other nonferrous metals and processing of nanocomposites. Some possible ideas will be discussed for future directions in extraction and processing of metals and training of professionals in this exciting discipline.