---

During the week of February 17–21, 2002, at the 131st Annual Meeting & Exhibition of The Minerals, Metals & Materials Society (TMS), you can join more than 4,000 science and engineering professionals, representing more than 70 different countries, who will come together for the opportunity to add to their own store of knowledge by capitalizing on the expertise and experience of their colleagues. More than 200 sessions and 1,000 individual presentations are scheduled. Whether your technical interests lie in precious metal extraction, aluminum processing, high-temperature superconductors, or just about any other materials field or metallurgical discipline, you will find programming that addresses your most pressing needs.

In addition to the technical programming highlights, you will have other opportunities to build on your knowledge base by taking advantage of special lectures, tutorial presentations, and short courses. Furthermore, the meeting will feature TMS Exhibit 2002, which will provide you an opportunity for one-to-one information and hands-on examination of products and services that answer the needs of your organization. At least 200 exhibiting companies are expected to fill the exhibit hall.
EXHIBIT BACKGROUND
The TMS Exhibition has grown each year in both number of exhibitors and number of attendees. The exhibit now covers more than 33,000 square feet and attracts more than 4,000 international leaders from the metals and materials industries. The show has an outstanding history with more than 90% of exhibit companies returning each year.

TMS takes great pride in working closely with exhibitors to develop individual marketing packages tailored specifically to the exhibiting companies' needs--complete with booth and display information, sponsorship opportunities, and strong marketing support. TMS provides an optimal environment to display products and services with the highest industry reach possible for your marketing dollar.
SHOW DATES & TIMES
Washington State Center Convention & Trade Center, South Level, Hals 4A & B
| | |
| --- | --- |
| Monday, February 18, 2002 | 12:00 Noon-6:00 PM |
| Tuesday, February 19, 2002 | 9:30AM-5:30PM |
| Wednesday, February 20, 2002 | 9:30AM-3:00PM |
SPECIAL ATTRACTIONS DURING THE 2002 EXHIBITION
Grand Opening Reception

An opportunity to visit the booths while enjoying a hosted reception. (Cocktails, Hors'deuvres and Entertainment)
Monday, 5:00-6:00PM

Complimentary Lunch Item

Registrants can enjoy a hosted sandwich, salad or beverage in the exhibit hall while visiting the booths
Tuesday, 11:45PM-1:15PM

Afternoon Snack

Join us in the exhibit hall for a cappuccino, expresso, or ice cream treat!
Wednesday, 12:15PM-2:00PM

Hosted Coffee Breaks will be heldin the Exhibition during Session Break Hours on Show Days

Also: Plan to visit the Lunch and Snack Concession Area in the Exhibit Hall

A convenient place where TMS attendees can purchase lunch or refreshments in the Concession areas, at the rear of the exhibition show floor during all show hours.
COMMERCIAL MINI-SESSIONS
As a complement to the 2002 technical program, presentations featuring new technologies, equipment, and processes will be featured in the Mini-Commercial Sessions.
At these sessions you will have the opportunity to
Learn of the latest techniques, products, and processes directly from suppliers
Receive more detailed information on products and services that are displayed in the exhibit
Identify the companies who provide solutions for your most pressing needs.
The mini-sessions will be held Monday, February 18, 2002 and Tuesday, February 19, 2002

SPECIAL DRAWINGS
One of 6 Sony CLIE™ Personal Handheld Organizers Drawing

The CLIE™ handheld runs on the proven, reliable, Palm® operating system. Which means it comes complete with all the standard Palm OS application you need for organizing your life.

TO ENTER: Visit the Rex Roto Booth in the Exhibit Hall during Show Hours and deposit the entry ticket found in your registrants packet

Drawing times:

Monday Feb 18 (2:00 pm & 5:00 pm)
Tuesday Feb 19 (10:00 am, 2:00 pm & 5:00 pm)
Wednesday Feb 20 (1:00 pm)
Sponsored by Rex Roto Corporation
Winners will be posted daily at the TMS Information Booth.
EXHIBIT PACKAGE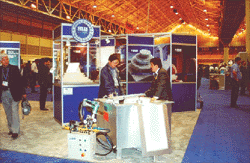 Get the most out of your marketing budget by reserving space at the 131st TMS Annual Meeting and Exhibition. Included in your booth:
Hosted Events in the Exhibit Hall to increase floor traffic

Opening Reception
Coffee Breaks
Luncheons

Advertising Discounts in the show issue of JOM--an award wining journal in the minerals, metals, and materials fields--reaching more than 10,000 individuals
Opportunity to post company descriptions and hypertext links on TMS OnLine web pages
Pre-printed Show Invitations/Passes for your customers and clients
First option on key sponsorship opportunities to increase company name exposure to meeting and exhibit attendees
ADDITIONAL INFORMATION
Call today to develop your 2002 exhibit package and get the most out of your marketing budget. If you would like more information, simply complete the on-line mailing list form.
Cindy A. Wilson, TMS Exhibits Coordinator
724-776-9000 ext. 231
wilson@tms.org