---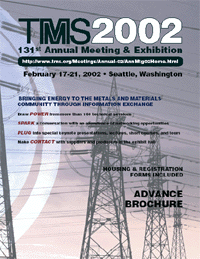 ---
SHOW DATES AND HOURS
---
---
Monday, February 18, 2002
12:00 Noon - 6:00 PM
(including the Welcoming Reception
5:00 PM-6:00 PM)
---
Tuesday, February 19, 2002
9:30 AM - 5:30 PM
(including the Attendee Lunch in Exhibit Hall
11:45 AM-1:15 PM)

---
Wednesday, February 20, 2002
9:30 AM - 3:00 PM
(including the Complimentary Cappucino in Exhibit Hall
12:30 PM- 2:30 PM)
---
---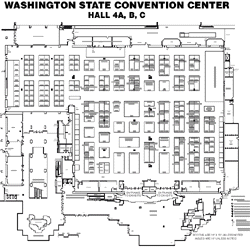 ---
Exhibit Floorplan
---
During the week of February 17–21, 2002, at the 131st Annual Meeting & Exhibition of The Minerals, Metals & Materials Society (TMS), you can join more than 4,000 science and engineering professionals, representing more than 70 different countries, who will come together for the opportunity to add to their own store of knowledge by capitalizing on the expertise and experience of their colleagues. More than 200 sessions and 1,000 individual presentations are scheduled. Whether your technical interests lie in precious metal extraction, aluminum processing, high-temperature superconductors, or just about any other materials field or metallurgical discipline, you will find programming that addresses your most pressing needs.
In addition to the technical programming highlights, you will have other opportunities to build on your knowledge base by taking advantage of special lectures, tutorial presentations, and short courses. Furthermore, the meeting will feature TMS Exhibit 2002, which will provide you an opportunity for one-to-one information and hands-on examination of products and services that answer the needs of your organization. At least 200 exhibiting companies are expected to fill the exhibit hall.
Exhibit Booth Reservations
Booth Reservations may be obtained by completing the 2002 Space Reservation Form (available for download in portable document format) or by accessing the on-line reservation form.
$19.00 per square foot for reservations received until September 15, 2001
$21.00 per square foot after September 15, 2001
Standard Booths are 10' x 10' .The minimum booth size is 10'X 10' (3.04m x 3.04m).Contact TMS to discuss creation of a booth configuration to achieve your objectives.
What is Included with Your Booth Rental
Security throughout the show (includes set-up,show hours,and dismantle)
8 foot back drape and 3 foot side drape
44 inch sign identifying your company name and booth number
Aisle carpet, maintenance, and cleaning.
General lighting, heat, and ventilation
Comprehensive exhibitor's service manual
Hosted Welcoming Reception and Coffee Breaks in the Exhibit Hall
Complimentary full conference registration for two exhibitors per 10 ' x 10 ' booth
Complimentary admittance coupons/invitations
Post-show attendee list
Exhibition Management Services
The Exhibit Package Also Includes
FREE show passes for your customers
FREE exhibitor registration to attend technical sessions
FREE listing in the Pre-Show Report and the On-Site Show Directory
FREE hypertext link from the TMS website to your website
FREE pre-and post-conference mailing lists
FREE vendor presentation opportunities in the Product &Technology Mini-Sessions
Growth of the Event
The importance of TMS as a world-class metals &materials event is illustrated by the consistent increase in the size of the show —net square footage as illustrated below:

---

---
TMS Exhibition Annual Growth
---
Products and Services Featured
Advanced composite &ceramics materials
Air pollution control equipment
Aluminum:

Industry wear parts
Processing equipment
Production technology & equipment
Quality
Refining systems

Anode:

Assembly
Cleaning
Rod stub welding
Transportation

Automation/Computer Simulation/Computer software
Butt:
Carbon:

Paste production & equipment
Cathode refining
Technology and supplies

Casting
Chemicals and additives
Cleaning machines/systems
Clothing – protective
Combustion technology
Corrosion/surface treatment
Cranes
Degassing

Dross:

Handling equipment
Cooling
Processing & removal

Engineering and consulting services
Filtration
Furnaces
Graphite parts
Grain refiners hardeners
HF measurement systems – pot rooms//stacks
Industrial gases
Ingot & sow casting handling & stacking
Instrumentation
Lubricants
Master alloys
Material handling
Material information
Measurement/Testing and analysis
Molten metal pumps
Process equipment
Publishers
Recycling/Scrap processing
Refractory &insulating:

Products
Maintenance/Repair

Research &development
Sawing systems
Service contractors
Vehicles for potrooms &casthouses
Water cooling &treatment
X-ray diffraction
We urge exhibitors to get involved with helping to promote their participation in the 2002 TMS Annual Meeting & Exhibition. Opportunities are designed to help you maximize your exhibitor benefits with customers and prospects. Act now to ensure your company the high visibility of a prime location. For space reservation, or to hold space on a tentative basis, contact:
Cindy A. Wilson
Exhibits Coordinator
The Minerals, Metals & Materials Society
184 Thorn Hill Road, Warrendale PA 15086
Telephone (724) 776-9000, ext 231; fax (724) 776-3770
E-mail wilson@tms.org; Web Site http://www.tms.org