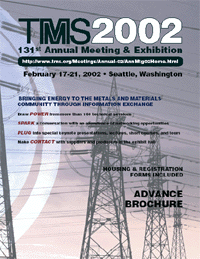 ---
RESERVE YOUR OPPORTUNITY
---
Reserve your sponsorship opportunity, by completing the appropriate reservation form. Complete the form on-line, or print, complete, and mail or fax the form to Cindy Wilson, Marketing Coordinator, 184 Thorn Hill Road, Warrendale, PA 15086-7514; telephone (724) 776-9000, ext. 231; fax (724) 776-3770; e-mail wilson@tms.org.
---
During the week of February 17–21, 2002, at the 131st Annual Meeting & Exhibition of The Minerals, Metals & Materials Society (TMS), you can join more than 4,000 science and engineering professionals, representing more than 70 different countries, who will come together for the opportunity to add to their own store of knowledge by capitalizing on the expertise and experience of their colleagues. More than 200 sessions and 1,000 individual presentations are scheduled. Whether your technical interests lie in precious metal extraction, aluminum processing, high-temperature superconductors, or just about any other materials field or metallurgical discipline, you will find programming that addresses your most pressing needs.

In addition to the technical programming highlights, you will have other opportunities to build on your knowledge base by taking advantage of special lectures, tutorial presentations, and short courses. Furthermore, the meeting will feature TMS Exhibit 2002, which will provide you an opportunity for one-to-one information and hands-on examination of products and services that answer the needs of your organization. At least 200 exhibiting companies are expected to fill the exhibit hall.

TMS is pleased to offer the following program of sponsorship opportunities in conjunction with the 131st TMS Annual Meeting & Exhibition. The TMS sponsorship program provides tailored opportunities to reach a targeted, decision-making audience of metals and materials industry leaders.

All sponsors receive an appearance of sponsor company name and logo on the general sponsorship recognition signage, on the TMS website, and in the final meeting program.

Opportunities for sponsorships at TMS 2002 are virtually unlimited!
INCREASE selling power and enhance the value of your presence at TMS 2002.
INSURE corporate recognition among the prime buying prospects who attend the TMS meeting & exhibition.
EARN bonus exhibitor priority points--one point for each $500 of sponsorship.
PROVIDE "spotlight" recognition in the 2002 TMS Annual Meeting & Exhibition program, in JOM, and on the event website.
IDENTIFY your organization as an event supporter.
MAXIMIZE your organization's exposure.
FACILITATE networking.
Sponsorship Opportunities Available
Registration/Program Bags
Investment: $1000
Exclusive Sponsor Opportunity
Sponsors ' name,logo and booth number printed on the official show bags that are distributed to all meeting registrants. Sponsor may opt to supply pre-printed bags or have TMS take care of the production. TMS reserves the right to review all material prior to production.Price above does not include production of bags. Deadline for sponsorship reservation: November 12, 2001.
Audio/Visual Equipment
Investment: $5,000
Exclusive Sponsor Opportunity
This sponsorship will help to offset costs of the audio/visual equipment required in the technical sessions.Receive name recognition and corporate brand identity in the meeting rooms. Sponsor will receive:
Recognition at the beginning of each technical session each day
Signage located in each technical session
Recognition on the general event sponsorship sign
Bottled Water
Investment: $2,000 per sponsor

Bottled drinking water will be distributed from a cooler station in a central location. 500 bottles of bottled spring water. Label will beprinted with a company logo. Multiple quantities may be sponsored.
Umbrellas
Investment: Contact TMS for options
Why not take advantage of this opportunity to let attendees display your message prominently over their head throughout the conference? Gain important corporate brand identity and promote your company's participation in Seattle by sponsoring umbrellas! Umbrellas will be taken home for future use by attendees, and continue to deliver your message long after the meeting. Based on sufficient sponsorship and quantities, umbrellas will be distributed to all meeting attendees at registration.
Meeting Signage
Investment: $1,500
This is an excellent visibility opportunity as sponsor of the signage for the meeting. Numerous free-standing information panels (1-meter width x 3-meter height) and banners will appear throughout the public areas of the convention center and hotel. Capitalize your logo visibility on these important, frequently-referenced signs.
Badge Lanyards
Investment: $500
Exclusive Sponsor Opportunity
Attendees will wear and display your company name and logo throughout the entire meeting! Badge lanyards are distributed to all meeting attendees at registration. Sponsor provides product, quantity 4,000.
Coffee Breaks
Investment: 1 location $400/day or $1000/week or All 3 locations $1,200/day, $3,000/week
Gain exposure in the most popular networking area of the meeting—outside of the technical sessions—by sponsoring a morning or afternoon coffee break. Sponsor can choose the location near the technical session rooms of their choice. Receive name/logo recognition on sponsor recognition signage. Coffee break sponsors are given the opportunity to distribute company brochures at the coffee break stations. Minimum $1,200 level includes napkins printed with your logo. Beverage charges are included.
RESERVED -- Information Booth
Investment: $1,600
Sponsor this key visibility area —the Information Booth is seen by every attendee when entering or exiting the technical papers or exhibits. The Information Booth is constructed as a three-sided kiosk and will be staffed by personnel from the Convention &Visitors Bureau, the social tour company and the housing bureau. Attendees will visit again and again! Sponsor logo on three sides.
RESERVED -- Cyber Center
Investment: $2,000 per day/$7,500 entire meeting
By far the busiest spot at the TMS meeting! This focal area will be located throughout the week in the South Lobby of the Washington State Convention & Trade Center. Attendees have access to multiple computer stations where they can access e-mail and have internet access. Included with sponsorship:
Signage featuring your company 's logo on computer station counter headers
Company logo as screen saver
Screen wallpaper with company logo/artwork
Default start up page to your company 's website

Cookie/Cappaccino Break
Investment: $1,500
Exclusive Sponsor Opportunity

As the exclusive sponsor of the Cookie/Cappuccino Break, you will be given the opportunity to showcase your company name and logo while hosting ALL conference attendees for an afternoon break! This break will provide an opportunity for all attendees to network and discuss the day's events. The sponsor will receive:
Name and logo recognition on two sponsor signs
Pre-printed snack tickets with company name and acknowledgement, distributed in the registrant's packet.
Printed coffee cups with your logo.
Prize Drawing--Video Camera Contest
Investment: $1,500
Exclusive Sponsor Opportunity
Tuesday during the exhibition,a drawing will be held for a video camera. Take advantage of a popular opportunity for brand exposure, while you support the TMS Foundation! To enter the drawing, attendees will deposit the entry ticket included in their registrants packet into the prize bin on the exhibition floor. Prize will be drawn on Tuesday afternoon, with an announcement of the winner just before the conclusion of show hours. As sponsor of the Prize Drawing, recognition will include:

Signage promoting the drawings throughout the conference.
Company name and acknowledgement on the prize drawing ticket distributed to all registrants.

Email to conference pre-registrants and authors notifying them of the drawing and acknowledging sponsor.
Announcement of prize winner and sponsor acknowledgement at the show.
Advertisement for the drawing with your logo in the meeting program.
TMS Banquet Reception
Investment: $2,500
When: Tuesday, February 13, 6:00 p.m.-7:00 p.m.
This unique opportunity allows your organization to have a prominent place with the leaders of science and industry. The reception features an open bar and hors d'oeuvres. Each guest will receive a banquet program acknowledging your sponsorship. Your company name and logo will be prominently displayed on signage entering the reception area and on the reception napkins.
Authors' Coffee
Investment: Monday-Wednesday, $1,000 each day; Thursday, $500

Each morning up to 500 speakers gather with fellow technical program presenters for a continental breakfast to discuss the program schedule and review their presentations. Take this opportunity to sponsor one or more morning's breakfast. In addition to the standard recognition, your company name will appear on signage in the Authors' Coffee area. Select the day(s) you wish to sponsor.
Final Program
Investment: $3,000
Exclusive Sponsor Opportunity
Showcase your company name and logo on the front cover of the final conference program. Program sponsorship includes a banner ad at the annual meeting program page on the TMS website—36,000 downloads of the 2001 program! When the meeting is over, the book will be taken home with the participant, and is often referred to and shared with other materials science and engineering professionals. Let this advertising medium disseminate your corporate message to the audience that makes the buying decisions about the products that you sell.
Exhibit Grand Opening Reception
Investment: A number of sponsor levels are available, ranging from individual item (cocktails, entertainment or hors d'oeuvres sponsor) to a general Reception sponsore. $1,000 to $5,000

Showcase your company name and logo while hosting conference attendees at this high-visibility event! Cocktails and hors d'oeuvres will be served during Monday's Grand Opening Reception in the Exhibit Hall at TMS 2002. This reception will provide an opportunity for attendees to network and renew acquaintances. A local theme may be incorporated. Sponsors name and logo will be displayed prominently on sponsor recognition signs to be located strategically throughout the reception area. Logo printed cups and/or napkins may be included—contact TMS to review the reception sponsor opportunities.
Hosted Exhibit Hall Lunch
Investment: Contact TMS to discuss a range of sponsor levels.

A full, hosted lunch will be provided in the exhibit hall for all conference registrants on Tuesday, during the mid-day technical session break. Tickets for the lunch will be distributed to all registrants in their registration packets.Your company can host all meeting registrants and gain key exposure as a sponsor of this popular event. Sponsors may choose to host the lunch beverage, dessert, or main course. Lunch sponsorship includes signage acknowledging the sponsors throughout the meeting and at food stations. Additional sponsor acknowledgement is given on the pre-printed lunch ticket, distributed to all meeting registrants.
Additional Opportunities
The opportunities for sponsorships at the TMS 2002 Annual Meeting & Exhibition are many. To customize a sponsor area to meet your budge and marketing needs, contact:
Cindy A. Wilson
TMS
Phone: (724) 776-9000, ext. 231
Fax: (724) 776-3770
E-mail: wilson@tms.org
For additional JOM advertising opportunities associated with the TMS Annual Meeting, contact Arlene Frances at 724-776-9000, extension 280 or email afrances@tms.org.