---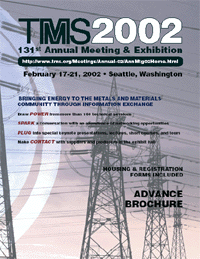 ---
ABOUT THE PRESENTER
---
John O. Marsden, P.E., is Vice President of Technology and Development for Phelps Dodge Mining Company, a subsidiary of Phelps Dodge Corporation. He received a B.S. in Mineral Technology from the Royal School of Mines, London. He held various operations and technical management positions during eight years with Consolidated Gold Fields PLC and eleven years with Phelps Dodge Corporation. He joined Phelps Dodge Exploration Corporation in 1990 as a metallurgist and served as Vice President of Technology, and Manager, Concentrator Operations at Compania Minera Candelaria, Copiapo Chile, prior to his current position. Mr. Marsden is a registered professional engineer and serves on the SME Professional Registration Committee. Past SME service includes the Richards Award Committee, Accreditation & Curricular Issues Committee, Taggart Award Committee, Wadsworth Award Committee as well as Chairman of SME Plant Design & Practice Committee.
---
EXTRACTION & PROCESSING DIVISION LUNCHEON
Date: Tuesday, February 19, 2002, 12:00 pm – 1:30 pm
Location: Washington State Convention & Trade Center
Room: South Level 6, Hall 6C

"New Developments in Copper Extraction – A Perspective"



Presented by:
John O. Marsden, P.E., Phelps Dodge Mining Company

About the topic:
The copper industry has a history of extreme cyclical change which, similar to other commodities, is caused by the supply and demand balance of copper in the market place. New developments in copper extraction technology are arguably both the cause and effect of this cyclical relationship: On the one hand, successful technology developments result in lower costs of production, which in turn leads to increased copper production and consequently to a decrease in the metal price. On the other hand, a lower copper price tends to drive technological innovation as producers are forced to reduce their cost of production to maintain competitiveness in the industry. This presentation reviews some of the major technology developments in copper extraction from a historical perspective, and then discusses a number of important emerging new technological developments that will shape the future of the copper industry going forward.

Luncheon tickets are $30 and may be purchased at the TMS Conference Registration desk.